Solvent Manager
The Solvent Manager is a device for the handling of liquids against the contact of the user with chemicals.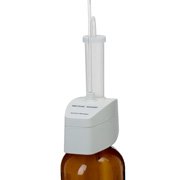 Specifications - Solvent Manager
| | |
| --- | --- |
| Material Number(s) | 51105652 |
Material Number(s):51105652Material Number(s):51105652
Description
Safe handling of Karl Fischer chemicals with the Solvent Manager
Contact with Karl Fischer reagents should always be avoided. The Solvent Manager takes care of filling, purging and exchange of the reagents. It is fully controlled by the titrator which offers One Click™ access to all tasks; full security against overflows is guaranteed by the level sensor in the waste bottle.
Solvent Manager for the general Titration
The integration of the drain function into the method allows aspiration of the sample after the Titration without any user intervention, saving the operator time. 
The Solvent Manager can also be used together with the Rondolino and Rondo sample changers to empty the beakers after analysis, preventing the laboratory from exposure to solvents.
Solvent/Reagent Control (V30/C30):
monitoring of important parameters and direct exchange of the chemicals.
The titration cell is always in good condition, as Solvent or Reagent Control monitors three different parameters and replaces the solvent when necessary in One Click™. The Solvent Manager also empties, fills or replaces the solvent whenever required and keeps the user fully protected.
Compact Volumetric KF Titrators:
Simple and secure solvent monitoring
The solvent needs to be replaced regularly in order to guarantee consistently correct results. The Solvent Control supports the user by monitoring three different parameters. For example, if only ten samples are soluble in 100 mL of the solvent the Solvent Control reminds the user after 10 samples to exchange the solvent and offers this with a One Click™ task button. Even when an instrument is running on Standby the Solvent Control is active and automatically starts conditioning of the fresh solvent after exchange. With minor user interaction the system is always kept in optimum condition ready to ensure a quick, accurate result whenever required.
Compact Coulometers:
Always in good shape thanks to Reagent Control
The reagents play an important role in the coulometric Karl Fischer titration. The Reagent Control keeps an eye on three parameters so that once the maximum capacity is reached the user is prompted to replace the reagents. The Control offers the possibility to start the exchange with One Click™ even when a method is running on Standby and the fresh reagent will immediately start being conditioned. Contact with any of the reagents is avoided and the user always has an optimal system, ready to use and prepared to generate correct, repeatable results.
Order Info:
For Karl Fischer Compact line:
51105600 

Solvent Manager set

 
Note: The Sample Manager is included in the standard delivery of the Compact KF titrators!
For Titration Excellence (T70/T90 for Karl Fischer)
| | |
| --- | --- |
| 51105605  | KF Kit (Including Solvent Manager, titration stand, vessel, sensor, tubes and all accessories) |
Titration Excellence (T50 /T70 / T90) and Compact Titrator G20 for general titration
| | |
| --- | --- |
| 51105652 | Solvent Manager Kit (includes Solvent Manager Set, and the needed accessories for the use of the Solvent Manger in the general titration.) |