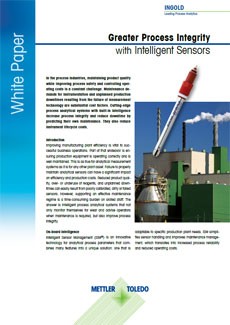 Greater Process Integrity
In the process industry, maintaining product quality while improving process safety and controlling operating costs is a constant challenge. Maintenance demands for instrumentation and unplanned production downtimes resulting from the failure of measurement technology are substantial cost factors. Cutting-edge process analytical systems with built-in intelligence increase process integrity and reduce downtime by predicting their own maintenance. They also reduce sensor lifecycle costs.
Find out in our latest white paper:
Why modern process analytics equipment with Intelligent Sensor Management (ISM®) is highly reliable
How ISM can be tailored to your requirements and simplifies sensor maintenance
How ISM's predictive diagnostics features can be integrated into your process control system.
 
ISM is a digital technology that integrates intelligent algorithms into in-line sensors.
ISM brings a level of performance that analog systems simply cannot provide, including: increased measurement confidence, online sensor diagnostics and error-free operation.
ISM's various features include the Adaptive Calibration Timer, which indicates in days when the next sensor calibration should be completed. This tool prevents sensors from being calibrated too late or too soon. The Dynamic Lifetime Indicator informs operators when sensor replacement will be required; therefore, preventing the possibility of a sensor failing in the process. ISM sensors need to be maintained only when necessary.
In this white paper you will learn about ISM's numerous features and benefits and how they combine to create a tool for improving process and cost control and maximizing process equipment availability during production.