ADI Remote Display Family
Clear, bright weight information
The ADI series of remote weight displays are easy to read at a distance, for applications such as vehicle scales, platform scales, crane scales, and more. With aluminum housings carrying IP56 ratings, ADI displays offer serious environmental protection, making them ready for long-term outdoor use. High brightness provides easy readability, even in direct sunlight or challenging conditions, at distances of up to 30 meters.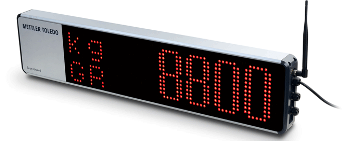 ADI Remote Displays

Optional traffic lights and wireless operation give the ADI series the flexibility needed to meet the needs of any application.

Basic
ADI150: 120mm character height

Extended
ADI155: 120mm character height, wireless communication

ADI550: 120mm character height, traffic lights

Durability

Aluminum alloy enclosures with special treatments for surface oxidation resistance provide reliable performance even in challenging outdoor environments. The ADI series is ready for long-term outdoor applications.

Communication compatibility

The ADI series of remote displays are compatible with scale terminals equipped with serial data output. Automatic baud rate detection simplifies setup.

Traffic lights (optional)

Easily provide instructions to vehicles (manually or automatically) with optional traffic lights integrated into the weight display.

Wireless communication (optional)

For ultimate flexibility, choose a display with wireless communication, at distances up to 100 meters. Eliminate the need for conduit and communication cables with displays that are easily relocated.
Specifications

| | |
| --- | --- |
| Baud rate | 300, 1200, 2400, 4800, 9600, 19200, auto-detection |
| Intensity | Four Settings |
| Characters | Six digits, red LED, 120 mm high |
| Designators | GR/NT; lb, kg or same as the indicator |
| Parameters | Push-button settings with prompts |
| Protocol | Supports METTLER TOLEDO continuous output/multi-scale output |
| Environmental compliance | REACH, RoHS |
| Communication | Input: RS232/485/20mA CL; output: RS232/485 |
| Enclosure | Aluminum alloy |
| Environmental protection | IP56 |
| Operating environment | -20~50ºC,10% to 95% relative humidity, non-condensing |
| Installation | Wall and column mount |
| Power supply | Voltage: 100~240VAC Frequency: 50/60Hz |
| Approvals (Product safety) | UL, CE |
Features and Benefits

| | |
| --- | --- |
| Bright red LED display | Easy-to-read in any lighting conditions |
| IP56 protection | Used for outdoor and harsh applications |
| Complies with REACH, RoHS | Minimal environmental impact |
| Baud rate auto-detect | No setup required |
| Input and output interface | Multiple displays can be connected to the same indicator |