Ion measurements made easy and reliable with perfectION™
The new range of combined ion-selective electrodes and solutions
METTLER TOLEDO's range of ion-selective electrodes (ISE) is being enhanced and expanded by the perfectION™ line. These 11 premium combined ISE guarantee top performance as well as easy handling. Thanks to the new Click & Clear™ reference junction the sample type hardly matters: whether the ion species of interest is being determined in an easy aqueous solution or in more complex matrices like waste-water, perfectION™ will always give the right results.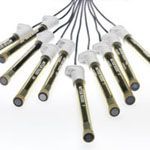 perfectION™ is ready for any industry or workplace
The robust design, the easy maintenance and long lifetime of perfectION™ sensors make them ideal for any user and almost any application. The new perfectION™ line covers the following ions: Silver/sulphide, Calcium, Chloride, Cyanide, Copper, Fluoride, Iodide, Potassium, Sodium, Nitrate and Lead. All sensors are equipped with an attached cable and are available with either a BNC plug to connect to an ion meter or with a LEMO plug to be connected to a METTLER TOLEDO titrator.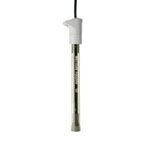 Click & Clear™ – The easiest and yet most reliable junction imaginable
What makes the perfectION™ line outstanding is the Click & Clear™ reference junction. By a simple click on the cap the junction is flushed and hence cleared. Simply reset the junction by releasing the cap. This ingenious sleeve junction technology guarantees stable, drift-free readings, even in dirty or viscous samples. In addition, replacing or refilling the electrolyte has never been so easy. A quick start to the next measurement is just a click away!
perfectION™ is more than just electrodes – It is a comprehensive testing solution!
The perfectION™ offering includes all solutions you need to measure ion concentration. For all sensors there are dedicated electrolytes in conveniently-sized bottles, high precision ion calibration standards and ionic strength adjustment solutions. Comprehensive user guides as well as application notes guide you through the system setup and analysis, even for the most challenging of applications.
ISE offering and support – perfectION™ and beyond
METTLER TOLEDO offers one of the most comprehensive ISE portfolios in the world, covering 19 ion species and 3 gases. In addition to the electrodes, METTLER TOLEDO offers easy to use portable ion meters as well as bench-top meters with full ion functionality. The comfort of SevenGo Duo pro™ and SevenExcellence™ is unmatched. Let the instrument guide you through your ISE analyses and enjoy peace of mind. If problems still appear we have experienced sales people and well trained technical support staff to answer any questions that might arise.