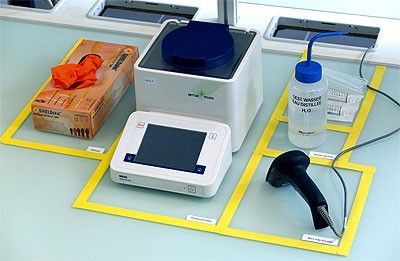 What is "Lean Lab"?
The successful implementation of "Lean Manufacturing" in several fields has inspired many businesses to adopt this model in laboratories as well. Hence the term "Lean Lab" was created, although it does not yet have a concrete definition.
Lean Lab can generally be interpreted as a way of increasing efficiency and reducing costs.
From our point of view, Lean Lab is primarily an internal organization task for process optimization. The objective is a contribution towards improving the economic efficiency of an organization. The technical contributions towards a Lean lab (which can be initiated in small steps, module-by-module, at any time) are as follows: the standardized operation of several different devices, optimized work processes, modular device combinations, standardized network-compatible software, and competent services.

Below are five areas that we identify as important for the "Lean Lab" concept. Within each area, we offer several solutions that will support you in your efforts to become "Lean".
Shorten distances
LabX® data transmission
Multiparameter solutions
Dedicated workstation solutions
Automatic sample changer
Eliminate waiting time
Automation
Notification (LabX® Mail)
Level Sens (Level indicator for solvent use)
Simplify complex processes
Simple methods
Easy operation (One Click®)
Standardized operation ("common interface")
Standardized software (LabX®)
Modular systems with standard automation solutions
Reduce waste
Smartphone (LabX® Mail)
Level indicators for solvent use
Optimization of titrant use
Accurate dosing through precise burette unit
Automation solutions (automated cleaning, automated sample changer)
Eliminate errors
LabX® data transmission
Multiparameter solutions
Dedicated workstation solutions
SmartSample™ solution for automated method selection
Automatic sample changer