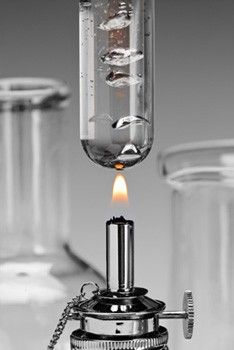 Heat Capacity
Heat capacity at constant pressure, Cp, is a quantity that characterizes the amount of heat, ΔQ, required to change the sample temperature by ΔT.

Cp = ΔQ / ΔT at constant p
where
ΔQ : exchanged heat
ΔT : temperature change

The heat capacity is normally normalized to the sample size, giving the specific heat capacity, cp
Different methods
Each TA method has its advantages and disadvantages. In general:
the higher the accuracy the more time must be invested

You will get more details about the different methods in the handbook, Thermal Analysis in Practice:
Thermal Analysis techniques
The standard technique is DSC. If there is weight loss in the interesting temperature range, TGA has an advantage because:
The measured heat flow is the product of the mass times specific heat capacity and heating rate: Heat flow = m·cp·β

For more information about the products please have a look at:
Application examples
In this application, a temperature modulated technique called TOPEM® is used to measure the sensible specific heat capacity curve during the curing of a two-component epoxy system.
The black curve is the total heat-flow curve and is almost identical to a conventional DSC curve. This curve exhibits a glass transition at about −20 °C. The main effect is the peak due to the curing reaction at about 90 °C. In contrast, the blue curve shows the change of the sensible specific heat capacity with higher resolution and sensitivity. The glass transition of the initially unreacted mixture causes the step change in the cp curve at about −20 °C.
The peak in the total heat-flow shows that the reaction begins slowly at about 25 °C. The reaction rate becomes significant from about 50 °C onward and the maximum rate is reached at about 90 °C. The reaction rate then decreases.
In this case a low heating rate was used and the sample vitrifies as the glass transition temperature reaches the actual sample temperature. Because the sample temperature continues to increase, the sample again devitrifies at 150 ⁰C.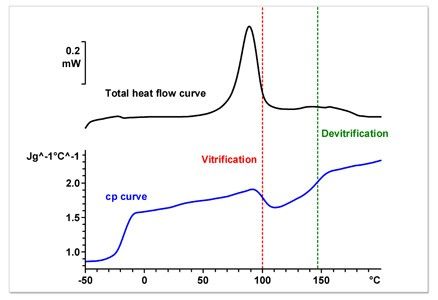 Specific heat Capacity (Cp)
More information
Further valuable TA information and the latest news are available at: