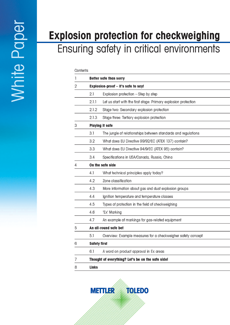 Explosion Protection for Checkweighing
This white paper outlines how explosion protection is regulated and explains that equipment sold in different countries has different certifications for different environments at risk of explosion. It then provides an overview of how the latest checkweighers are designed to mitigate such risks.
Using checkweighers in environments where potentially explosive atmospheres may occur requires manufacturers and operators to have extensive expertise. This white paper provides the in-depth knowledge necessary to help manufacturing companies meet the requirements of international regulations and eliminate the risk of explosions to ensure safety in critical environments.
The white paper focuses on the following areas in detail:
What is the explosion triangle?
What are the three stages of explosion protection measures?
What do EU Directives 99/92/EC (ATEX 137) and 94/9/EC (ATEX 95) specify?
Which organizations set the standards for manufacturing facilities at risk of explosion in the USA, Canada, Russia and China?
Why are areas at risk of explosion classified into zones?
What is the ignition temperature?
What markings should explosion-proof checkweighers contain?
What approvals may be required before a checkweigher can be used in an Ex area?
An explosion protection checklist for a checkweigher using ATEX 94/9/EC as an example is provided.
Download this informative white paper to learn more
Manufacturers of ATEX compliant checkweighers have to meet a whole range of requirements when it comes to implementing the appropriate protective measures for the risk classification in question. This involves not only complying with the legal directives, but also considering how their manufacturing facilities are organized for the production environment concerned.
Depending on the customer's requirements, it may be that the checkweigher is to be used entirely in an environment at risk of explosion. Equally, however, it may be that only parts of it are affected. For example, the HMI (Human Machine Interface) may remain outside the zone while the remaining checkweigher components have to be within it.
Expert manufacturers are ideally placed to provide the best solution in each case for meeting the requirements of the particular circumstances, from both a technical and financial perspective. The large number of key components in a checkweigher means that tried-and-tested protective measures, which can stand up to any challenge, are a must. In turn, this makes an integrated safety concept for explosion protection essential for manufacturers. This is the only way of protecting all modules so that they can face the demands of practical scenarios and regulations.