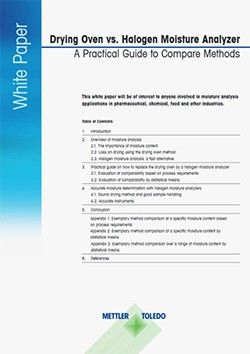 Drying Oven vs. Halogen Moisture Analyzer
Drying Oven vs. Halogen Moisture Analyzer will be of interest to anyone involved in moisture analysis applications in pharmaceutical, chemical, food and other industries. Moisture content is a key quality parameter in many industries, including food, pharmaceutical and chemicals. This white paper explains that rapid halogen moisture analysis can replace the drying oven method, providing that the results obtained by the two methods are comparable. Two approaches to establish the equivalency of the results are described (with detailed examples): comparison of the accuracy and precision of the data based on the process specific tolerances; and comparison by statistical methods, such as the Student t-test and linear regression analysis. Less than a day's work is required to establish documented evidence that both methods provide comparable results. Halogen moisture analysis yields a result in a fraction of the time and is simple, as a direct result is generated with no calculation required, which makes this technique ideally-suited for conducting reliable measurements both in the laboratory environment and on the production line.
"Can the drying oven method be replaced by fast halogen moisture analysis?"
The simple answer is yes, as long as the results obtained by the two methods are comparable. This means that it is necessary to show evidence that the results are equivalent within specific tolerances, which is not such a straightforward question to answer. This white paper guides the analyst through this process. It explains the key decision criteria surrounding the choice of method and provides practical guidance on how to demonstrate that the two different methods (drying oven and halogen moisture analyzer) for establishing the moisture content of a sample deliver comparable results. In addition, two alternative and acceptable comparison approaches are outlined here: the first approach is based on specific process requirements (tolerances), and the second approach is based on statistical analysis of the data obtained
Preview - White Paper Drying Oven vs. Halogen Moisture Analyzer A Practical Guide to Compare Methods
Preview the first chapters before registering for the full download.
This white paper guides the analyst through this process. It explains the key decision criteria surrounding the choice of method and provides practical guidance on how to demonstrate that the two different methods (drying oven and halogen moisture analyzer) for establishing the moisture content of a sample deliver comparable results. In addition, two alternative and acceptable comparison approaches are outlined here: the first approach is based on specific process requirements (tolerances), and the second approach is based on statistical analysis of the data obtained