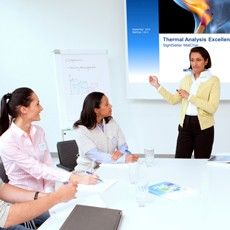 One day basic training course in DMA (English)
Dynamic mechanical analysis (DMA) is used to measure the mechanical properties of viscoelastic materials under stress.
In this course, the advantages of the 4 main deformation modes (bending, shear, tension and compression) are highlighted and discussed. Finally, the course also offers important advice for how to interpret DMA measurements.
Program:
Introduction to DMA
Overview of the 4 main measurement modes
How to set up a DMA experiment
Interpretation of DMA effects
FAQs
March 22, 8.30 to 17:00 (EN)

March 22, 8.30 to 17:00 (EN), CET

online
Course language: English
Online: Course fee: 450.- CHF