Veiing av jernbanevogner
Robuste vekter til veiing av jernbanevogner, enten stillestående eller sammenkoblet i bevegelse
Solid konstruksjon for holdbarhet
METTLER TOLEDOs togvekter tilbyr solide konstruksjoner i utallige konfigurasjoner. De kombinerer disse med POWERCELL®-veieteknologi for varig pålitelighet og høy nøyaktighet.

Togvektsystemene kan brukes til statisk veiing og veiing av jernbanevogner som er sammenkoblet og i bevegelse. Togvekter for koblet-i-bevegelse-veiing (CIM) tilrettelegger for veiing av flere jernbanevogner og hele tog på en brøkdel av tiden.


Forbedre ytelsen til togvekter
METTLER TOLEDO har også kombinasjonsvekter som veier både jernbanevogner og lastebiler på én enkelt vekt.

Spesialkonstruerte skinneløsninger kan møte behovene til store eller spesielle prosjekter med unike krav til konfigurasjon og integrering.

Det er også mulig å oppgradere for å forbedre ytelsen til eksisterende togvekter. Dette kan omfatte konvertering av eldre mekaniske spake-togvekter til moderne veiecellesystemer som et kostnadseffektivt alternativ til å kjøpe en ny vekt.


Publikasjoner
Blader

When vehicles stop moving, they stop making money. In-motion weighing enables you to increase throughput by weighing vehicles without stopping them o...

In today's competitive market, you can't afford to ignore a vehicle scale's potential to improve your operation's productivity. Find out how your sc...

Businesses are robbed every day without even knowing it. When theft occurs at a vehicle scale, management often has no idea what was stolen or who too...

Freight carriers everywhere are pushing the limits on truck size. By using longer trucks, they hope to increase productivity as much as 20 percent.
Relaterte produkter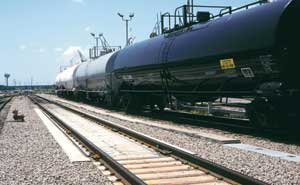 Utformet for enkel og nøyaktig veiing av jernbanevogner med den hensikt å øke kapasiteten uten å svekke sikkerheten.