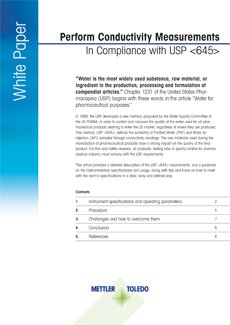 USP 645
Compliance with USP 645 standard is required for many applications related to the pharmaceutical industry due to safety reasons. Conductivity is a principal measure of water quality, as extraneous ions may have a significant effect on water's chemical purity and suitability for use in pharmaceutical applications.
This article provides a detailed description of the USP 645 requirements for conductivity measurements in purified water and water for injection. It also contains a guidance on the instrumentation specifications and usage as well as tips and tricks on how to meet with the norm's specifications in a clear, easy and defined way.
The following topics and more are covered in the USP 645 White Paper:
1. Instrument specifications and operating parameters
2. USP 645 Procedure
3. Challenges and how to overcome them
Read the USP 645 White Paper and learn how to increase the accuracy, repeatability and reliability of your conductivity measurements
Want to learn how your USP 645 measurement can be streamlined?
Check out this step-by-step USP 645 video on using the SevenExcellence and pre-defined methods to simplify this tedious measurement.
Perform Your Next Conductivity Measurement In Compliance with USP 645

1. Instrument specifications and operating parameters
USP 645 outlines the requirements of the conductivity measuring system, including the conductivity meter and sensor. Those requirements have implications on the calibration and verification standards used. Several considerations are discussed in this section.
Conductivity meter calibration
In order to give a predicted instrument conductivity response, the conductivity meter needs to be calibrated. This process describes the calibration of sensor inputs on the meter by replacing the sensor with a service tool. This tool is typically a set of certified resistors or a decade box.
The meter calibration is achieved by using NIST-traceable resistors (or equivalent), which have an accuracy of ± 0.1 % of the stated value. This accuracy level can also be achieved through adjustable resistance devices, like a Wheatstone bridge for instance.
USP requires that the accuracy of the resistors used for meter calibration be within ± 0.1 %. The resistors used by METTLER TOLEDO (MT) service technicians are NIST traceable, and the real value of the resistor is known to a precision of ± 0.001 %. When a meter calibration is performed, the true resistor value (no the nominal value) is used. The true value of the certified resistor may differ from the nominal value by up to 0.3 %. Note that the uncertainty value is the critical component to USP compliance here, not the difference between nominal and real value.
In addition, USP requires a minimum resolution of 0.1 μS/cm and an instrument accuracy of ± 0.1 μS/cm at 1.3 μS/cm, without taking the accuracy of the sensor cell constant into account. All MT conductivity meters have a resolution of 0.01 μS/cm or better in that range. The general accuracy of the instrument's sensor input is 0.5% - calculated to ± 0.07 μS/cm at 1.3 μS/cm - well within the limits of compliance with the norm.
Sensor calibration and verification of the conductivity cell constant
Use of non-temperature compensated conductivity readings
Challenges and recommendations for handling standard solutions
2. Procedure
In order to measure the quality of PW and WFI through conductivity readings, a three-stage procedure must be followed:
Firstly, a water temperature measurement and a non-temperature compensated conductivity reading are performed. USP 645 requires a precision of ± 2 °C in temperature measurement. The temperature probe input of the MT Seven Series pH instruments has a limit of error of ± 0.1 °C. Both temperature probes that are built into MT InLab® conductivity electrodes as well as the external ones (separate InLab® temperature probes) have a tolerance of ± 1 °C or lower, perfectly in compliance with the norm.
The measured conductivity value is compared to a Temperature/Conductivity Limits table (Table 2). If the measured temperature value is not on the list, the next lower temperature must be taken in order to define the conductivity limit. Interpolation should not be performed.
If the measured conductivity value does not exceed the corresponding conductivity limit value on the table, the test is complete. If it is higher than the table value, then it is necessary to proceed to Stage 2.
It is recommended that the measurement is performed at-line using a sample bottle or beaker.
Table 2. Stage 1 – Conductivity Limits as a Function of Temperature
3. Challenges and how to overcome them
METTLER TOLEDO's conductivity meters, sensors and standard solutions help ensure compliance with USP 645 conductivity requirements with high accuracy, rendering the process fast and simple.
If many measurements are taken at the same time, it is relatively easy to make a mistake in table referencing. In order to avoid introducing any possible error, the SevenExcellence™meter can deactivate the temperature compensation automatically in USP mode, compare results to the memory-integrated tables and indicate directly whether the sample meets the specifications or not. This is achieved by using a workflow method, which is a sequence of analysis steps with pre-set parameters. These workflow methods guide the user step by step on how to proceed with the instrument, and ensure users are following the proper SOP (Standard Operation Procedure).
[…]
4. Conclusions
Compliance with USP 645 norm is required for many applications related to the pharmaceutical industry. With a 3-step procedure, it is possible to introduce errors as tables are manually referenced, leading to inaccurate results or failed audits. Therefore, care must be taken.
[…]