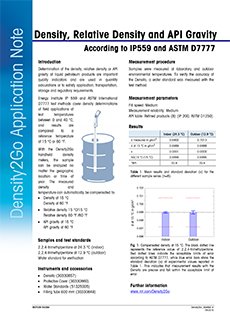 petroleum quality control
Petroleum quality control testing is performed to accepted industry standards such as ASTM, ISO, IP, DIN, and many other international and national norms. The density, relative density, and API gravity are important liquid petroleum quality indicators, and are used in quantity calculations and to satisfy application, transportation, storage, and regulatory requirements.
Testing of line samples, purchased raw materials, or compartment samples from ships and tanks are performed to monitor contamination that may occur during loading. This ensures uniform, high-quality products as well as customer satisfaction.
Because such testing typically occurs outdoors, the Energy Institute IP 559 and ASTM International D7777 test methods cover density determination of field applications between 0 and 40 °C, and results are compensated to a reference temperature of 15 °C or 60 °F.
The METTLER TOLEDO Density2Go portable density meters allow for samples to be analyzed year-round, with an ambient temperature range of 0 to 50 °C, as measurement results can be compensated to specific temperatures. This application note covers the measurement of 2,2,4-trimethylpentane at two different temperatures, including measurement parameters and results of compensated density, API gravity, and specific gravity.
Learn more about density, specific gravity, and API gravity determination of petroleum.