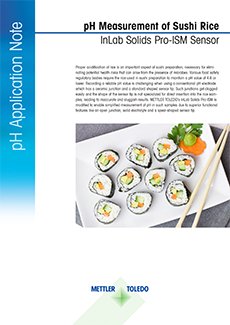 pH of sushi rice
The proper pH measurement of sushi rice can pose challenge. The pH of the sushi rice must be consistently maintained within the range of 4.1 to 4.6 (at ambient temperature), as per the Food Standards Code, to inhibit microbial growth. In order to have consistent flavor in each batch of sushi, the rice is acidified to a fixed pH. The increased acidity level allows for the storage and serving of sushi in a temperature greater than 5°C.
Recording a reliable pH value of sushi rice is challenging when using a conventional pH electrode which has a ceramic junction and a standard shaped sensor tip. Such junctions get clogged easily and the shape of the sensor tip is not specialized for direct insertion into the rice samples, leading to inaccurate and sluggish results.
Read this Application Note to learn the requirements for pH measurement of sushi rice. Find the perfect sensor for measuring pH of sushi rice.