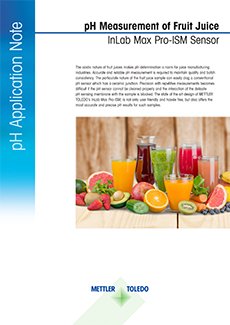 pH of fruit juice
Accurate and reliable measurement of pH of fruit juice is required to maintain quality and batch consistency of juice. The juice, being a natural product, is susceptible to deterioration due to chemical activity and bacterial spoilage. High-temperature, short-time (HTST) pasteurization is preferred for perishable beverages as it prevents microbial growth and maintains freshness, color and better flavor. The pH plays an important role in managing the parameters of these preservation techniques.
The particulate nature of the fruit juice sample can easily clog a conventional pH sensor which has a ceramic junction. Precision, with repetitive measurements, becomes difficult if the pH sensor cannot be cleaned properly and the interaction of the delicate pH sensing membrane with the sample is blocked.
Read this application note on pH measurement of fruit juice and gain insight into the sensor that is suitable for measuring pH of fruit juice.