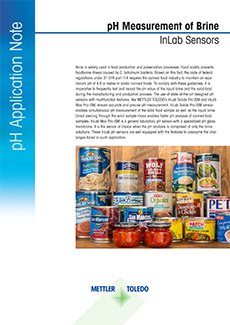 pH of Brine
Measuring pH of brine is essential as it is widely used in food production and preservation processes. Preservation techniques like curing, pickling and canning make use of salt solutions that are termed as brine. The use of brine is prevalent in the canned food industry, cheese making industry, fish and meat curing industry and so on.
Food acidity prevents foodborne illness caused by C. botulinum bacteria. Based on this fact, the code of federal regulations under 21 CFR part 114 requires the canned food industry to maintain an equi­librium pH of 4.6 or below in acidic canned foods. To comply with these guidelines, it is imperative to frequently test and record the pH value of the liquid brine and the solid food during the manufacturing and production process.
While measuring pH of brine, conven­tional sensors are inefficient and the sensing membrane may get scratches during the measurement process. To know about the sensor that can be used for measuring pH of brine as well as the solid food sample, read this application note on brine.