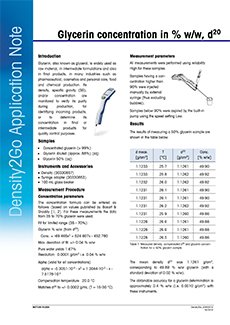 glycerol quality control
Glycerol, also known as glycerin, is a versatile compound widely used in a variety of industries: as a sweetener in beverages, a humectant in pharmaceutical preparations, an emollient in toothpaste and skin care products – it was even once used in antifreeze!
Because glycerol is used in these different applications, glycerol quality control is crucial in ensuring a high-quality end product. The density, specific gravity, and/or concentration of glycerol can be monitored to verify its purity during production, to identify incoming goods, or to determine its concentration in intermediate or final products. Such measurements can be performed easily and efficiently with a density meter – much faster than with gas chromatography.
This application note shows you how to measure glycerol concentration with your Density2Go portable density meter, including measurement parameters and results.
Learn how to measure the glycerol concentration of your sample.