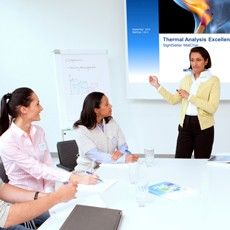 One day training course in TGA-GC/MS (English)
This course provides an introduction to TGA-GC/MS, which is commonly used to analyze material decomposition. Coupling TGA with GC/MS also allows for the identification of gases released from a sample during a heating run.
Program:
TGA-GC/MS introduction
Basics of GC/MS
How to set up a TGA-GC/MS experiment
How to present the results
Spectra interpretation
FAQs
November 19, 8.30 to 17:00 (EN)

November 19, 8.30 to 17:00 (EN), CET

Mettler-Toledo GmbH, Im Langacher, 8606 Greifensee (Switzerland)
Course language: English
Course fee: 675.- CHF
Course fee includes lunch.