Start Kit PL-LTS 2,20,200,1000μL
Best Setup to Start Pipetting.
Starter Kit including 4 LTS Pipet-Lite XLS+ manual single channel pipettes (2ul, 20ul, 200ul, 1000ul), 1 SCS-B SmartStand, 4 boxes of corresponding LTS tips.
Comfort, accuracy and control
Total hand comfort with lower spring forces, while maintaining supreme accuracy and precision. Smooth and responsive plunger for total control.
Reliability and convenience
Secure volume lock averts accidental drift and allows easy one hand adjustment. Upgraded ejector and shaft assembly for easy cleaning and autoclaving.
GLP/GMP security and asset management
RFID tags provide secure service data for easy calibration tracking, asset management and maintenance schedules for your pipetting inventory.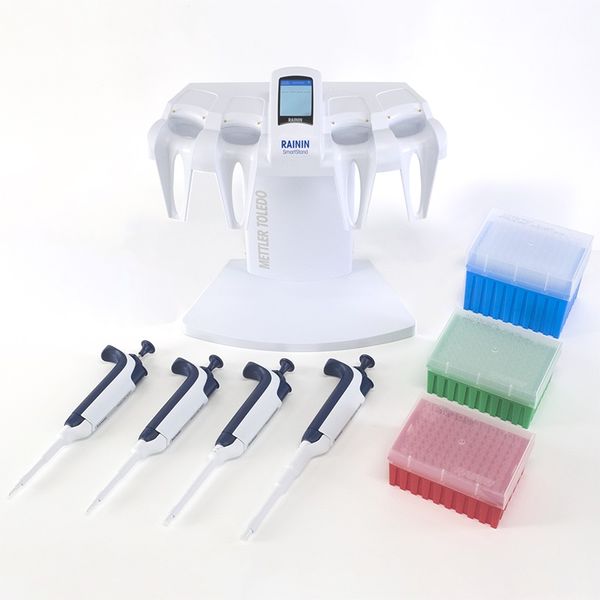 The Performance Champions

Pipet-Lite XLS+ blends cutting-edge engineering and innovation to deliver highly reproducible results with exceptional comfort. New elastomeric seals and polymer tip ejectors, along with Rainin's patented LTS™ LiteTouch System™, deliver smoothness and control. The sure-fit handle, light springs and "Magnetic Assist™" technology ensure smooth, light operation and significantly reduce the risk of repetitive strain injuries. Tip shaft options included low-force LTS for improved ergonomics and universal-fit. Like all Pipet-Lite XLS models, its embedded RFID tag enables advanced calibration tracking with optional reader, software, and PC.
Product Family:single-channel-pipettes00020027
Specifications - Start Kit PL-LTS 2,20,200,1000μL
| | |
| --- | --- |
| Starter Kit | 4 Pipettes |
| Tip Technology | LiteTouch System LTS |
| Channels | 1 |
| Pipette Type | Manual |
| Material Number(s) | 30386597 |
Starter Kit:4 PipettesStarter Kit:4 PipettesTip Technology:LiteTouch System LTSTip Technology:LiteTouch System LTSPipette Type:ManualPipette Type:Manual