Liquid Handling Equipment
For special applications, Rainin offers specialized high-quality tools to optimize liquid handling.
Rainin Pipettes and Tips for Top Pipetting Performance
Rainin, a METTLER TOLEDO Company, is the leading provider of advanced pipette solutions for life scientists worldwide. We offer a wide select...

Rainin, a METTLER TOLEDO Company, is the leading provider of advanced pipette solutions for life scientists worldwide. We offer a wide selection of manual pipettes, electronic pipettes, multichannel pipettes, BioClean pipette tips and expert pipette services that work together as a complete pipetting solution – Pipetting 360°. Top quality, innovative design and state-of-the-art production result in superior pipette products with years of reliable operation.
In addition, METTLER TOLEDO's unique Good Pipetting Practice™ (GPP™) is a risk-based, comprehensive and systematic approach to maximizing pipetting accuracy and repeatability.
The Pos-D Positive Displacement Pipette is a smart solution for pipetting "difficult" liquids, such as dense, viscous and volatile samples.

AutoRep manual and electronic repeater pipettes deliver fast, fatigue-free performance.

The Rainin Disp-X analog bottle top dispenser is a valuable tool to aliquot reagents quickly, reliably, and safely.

Lightweight controller for serological pipets up to 100 ml. Gravity and motor assist blowout.

Zero cross contamination

Disposable pistons-capillaries: no contamination.

Natural fit and feel

Ergonomic design and fingerhook for hand comfort.

Convenient, flexible electronic repeater pipette

Dispensing, Auto-dispensing and Pipetting modes.

Easy volume setting eliminates guesswork

Simple controls. AutoRep E "reads" Encode volumes.

Superior chemical compatibility

Quality, inert materials assure reagent purity.

Built-in safety features

Prevents accidental dispensing and spills.

Clear and easy control

Adjustable knob for quick and easy volume setting.

Flexible dispensing options

Tubing options adapt Disp-X to your workflow.

Flexible one-handed controls

Continuously variable speed control buttons.

Contamination free

Check valve, 0.2 µm filter protect internal parts.
Pos-D capillaries and pistons are the perfect solution for positive displacement pipetting.

Rainin high-quality pre-assembled positive-displacement syringe tips are available in 10 different sizes, in both sterile and non-sterile formats

The following accessories are available for Rainin Pos-D positive displacement pipettes.

The following accessories are available for Rainin AutoRep

Preassembled - Clean, Convenient, Easy Pick-up and Ejection

Capillaries and Pistons are preassembled and racked. Instantly ready to use. Easy to pick up and eject.

Automated and Presterilised

No contamination. Assembled and packaged by robots, no human contact. The e-beam presterilization adds extra-protection.

Flexible Use

Fast and easy capillary/piston pickup from racks. No hand-mounting required

Encode syringes are recognized by AutoRep E

No volume setting errors - syringe is automatically recognized by AutoRep E

Wide volume range

For aliquots from 2-10 ul

Positive displacement

All liquid samples can be used, aqueous and non-aqueous
| | | | |
| --- | --- | --- | --- |
| | | | |
| | | | |
| The following accessories are available for Rainin Pipet-X lightweight controllers for serological pipettes. | Displacement discharge tubes and accessories are available for Rainin Disp-X bottle top dispensers. Discharge Tubes come in packs of 2 and are available in 25 or 50 ml bent, or 120 mm. | The Rainin QuickFlow benchtop aspirator offers exceptional ergonomics and a broad range of features. | QuickFlow vacuum aspirator accessories include a 4-Liter bottle, cap with quick-snap connectors, a handle hook to attach to surfaces for extra space-saving, and a blue vacuum tube with in-line overflo... |
| | | | |
Publications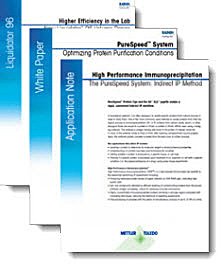 Rainin Documentation Center
Looking for product brochures, data sheets, operating instructions or white papers? Visit our documentation center for a detailed and comprehensive overview and access to all available documentation on Rainin products.