User Training for Product Inspection
Supporting personnel in reaching optimized productivity and compliance
Hands-on training in your natural working environment
We believe the best results from training are achieved when the delegates can focus on learning without the distractions and pressures of the norma...

We believe the best results from training are achieved when the delegates can focus on learning without the distractions and pressures of the normal working environment. However, we also realise that the continued smooth running of your business is important and making time for operators to attend external training can be a problem.
With this in mind, we offer a choice of training in our purpose-built facilities or on-site training where operators can learn in their natural working environment on their own familiar equipment.
All trainings are tailored to suit your personnel. The courses are aimed primarily at operators, quality managers and staff as well as in-house engineers and technicians who will benefit most from the topics covered. It is also relevant to anyone who has the responsibility for testing, operation and maintenance.
Profound knowledge of your product inspection equipment
All training modules have been developed to help you ensure work safety whilst making best possible use of your equipment. Essential safety instructions, Good Manufacturing Practices as well as comprehensive knowledge of your product inspection system are part of the courses.
Learn how to identify and control basic functions of your checkweigher, metal detector or x-ray system as well as how to maintain them and ensure they meet quality requirements.
Search for Product Inspection Specific Services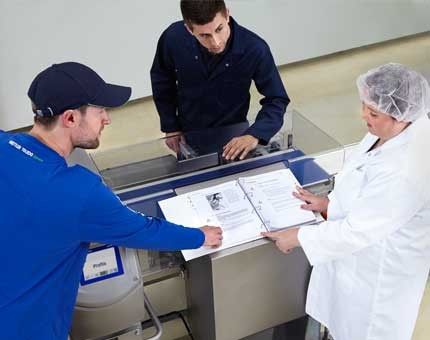 Professional learning from experts
A key success factor of any efficient processing or packaging line is the skill of the operators and engineers responsible for them. METTLER TOLEDO offers a broad range of training courses designed to ensure our customers maximise the performance of their product inspection systems. We can visit your premises and train staff on important topics including:

How to operate the equipment


How to handle maintenance and repair


How to comply with quality requirements
Essential operator training
Well-trained and competent operators are essential to keep your production processes running with maximum efficiency. Good knowledge of your specific system is an asset for success – that is, quick and safe work as well as a long useful life of the equipment.

From standard classroom training to individual hands-on coaching and support, we offer operator training designed to provide your teams with the expert knowledge required to maintain peak performance. Get the most out of your product inspection equipment and support Good Manufacturing Practices.
Effective training for quality managers
When it comes to quality responsibilities, we can provide an in-depth, Quality training module covering all details of regulatory requirements and local testing procedures. This is backed-up with best-practice guidance on documentation processes to support due diligence.

Gain an understanding on how your inspection equipment can help you implement an effective quality assurance programme in your production plant. The quality training module will help you identify possible hazards and teach you how to avoid them.
Invaluable maintenance training
Keeping up to speed with a demanding production environment can be challenging – but our certified industry-specific maintenance training (held on your premises) considerably expands your knowledge about equipment maintenance, including regulations, unplanned downtime prevention and basic fault diagnostics.

Get the best results with your system using knowledge such as testing procedures, documentation, preventive maintenance and equipment repair.
Related Services
Mettler Toledo has a large library (much of it downloadable) to keep you up to date with the latest industry and technical developments.
Mettler Toledo can help you maximise productivity and business efficiency through a comprehensive consultation and business support service.