Sorting and Grading Solutions
Reduce product giveaway and improve productivity with our multiple sorting device
Perfect sorting of products with diverse weights

Correct weighing, sorting and grading of products is essential for ensuring that product net weight or dimensions meet specifications and packag...


Correct weighing, sorting and grading of products is essential for ensuring that product net weight or dimensions meet specifications and packaging standards. METTLER TOLEDO offer automatic sorting and grading solutions which are designed to replace inefficient manual sorting and grading processes. Automatic processes requires less labour, and are also much more accurate than manual processes. In addition, they improve yield, reduce product giveaway to an absolute minimum, and greatly improve productivity.

The most accurate weight classification is the foundation. The Grader models must be combined with an E-Series, S-Series, XS, XE or XC checkweigher preceding the grader in the line.

The checkweigher determines the exact weight of each individual product, and passes this weight value on to the Grader. The Grader classifies the product weight value and triggers the respective swing gate as soon as the product, travelling along the line, reaches it. The Grader is mechanically independent from the checkweigher which precedes it. This eliminates all vibrations caused by mechanical movement during the sorting process, and ensures the highest levels of weighing accuracy.

Mettler-Toledos expertise in food production, and its engineering experience, make the grader your perfect work partner for fish, meat, poultry and frozen products.

On delivery to your factory, the system is complete and ready for installation - and its small footprint minimises the need for extensive production line re-engineering. This reduces downtime, decreases project completion time, and considerably reduces costs.

The 'dual parallel' swing gate design makes the grader particularly compact when integrating it into a production line, which helps you save valuable floor space.

Rugged photo-electric sensors ensure that the specially designed swing gate (perfectly timed by the control) will divert your product gently to the right outlet, thus minimizing the risk of damage to your product.

Automatic grading at high throughput

Process automation increases profit margins. With throughput rates of up to 200 pcs per minute, the X-Grader will automatically sort products much faster, more reliably and consistently than manual processes. This will save costs, eliminate waste through sorting errors, and allow production levels to increase - for more profit.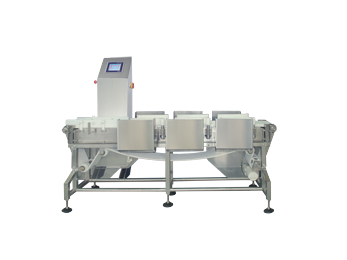 Streamlined processes at high throughput
Work reliably at high throughput, and provide an invaluable asset to future-orientated factory processes, with reduced labour cost and increased revenues.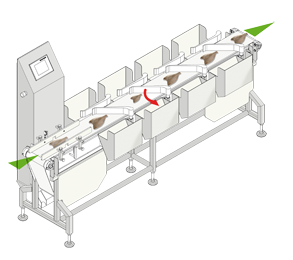 Hygienic, quick and gentle
Build materials have been chosen and tested to withstand stress and strain under harsh working conditions, so that the X-Grader's long and useful life is assured - and all contact parts are made from materials suitable for food processing/ food production. The swing gates (or 'diverters') gently guide crabs, fish and other sensitive products to the lateral outlets. From this location, they slide down to trays, containers or existing conveyor systems.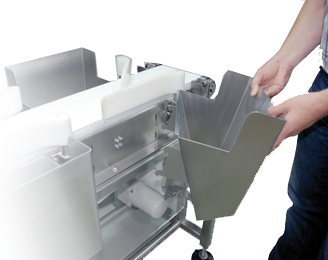 Simple assembly
The Grader's design is clear and simple, and installation requires very little work. Simply connect it to an E-Series, S-Series, XC, XE or XS checkweigher and align with the conveyor line.
Documentation
Grading and Sorting Documentation
Brochures

ProdX allows you to connect and control your entire product inspection management process from a single point or from multiple remote locations, elimi...
Services
Grading and Sorting Service Offerings
Explore our Services - Tailored to Fit your Equipment
We support and service your product inspection equipment through its entire lifecycle, from installation to preventive maintenance and calibration to equipment repair.