SevenGo Duo - Dual-Channel Portable pH Meter
Dual-channel Meter for Measuring pH, Conductivity, DO and Ion in Any Workplace
SevenGo Duo - Dual-Channel Portable pH Meter
SevenGo Duo pro™
Professional portable watertight (IP67) dual-channel meters with data memory, infrared interface for data transfer to a PC or a printer, bright backlighting and extensive GLP support - ideal for special requirements in regulated sectors or for measurements under extreme conditions.

SevenGo Duo™
Watertight (IP67) portable dual-channel meters for routine pH measurement with a large display, data memory and indication of the electrode status - ideal for applications that require a high-quality meter with exceptional performance.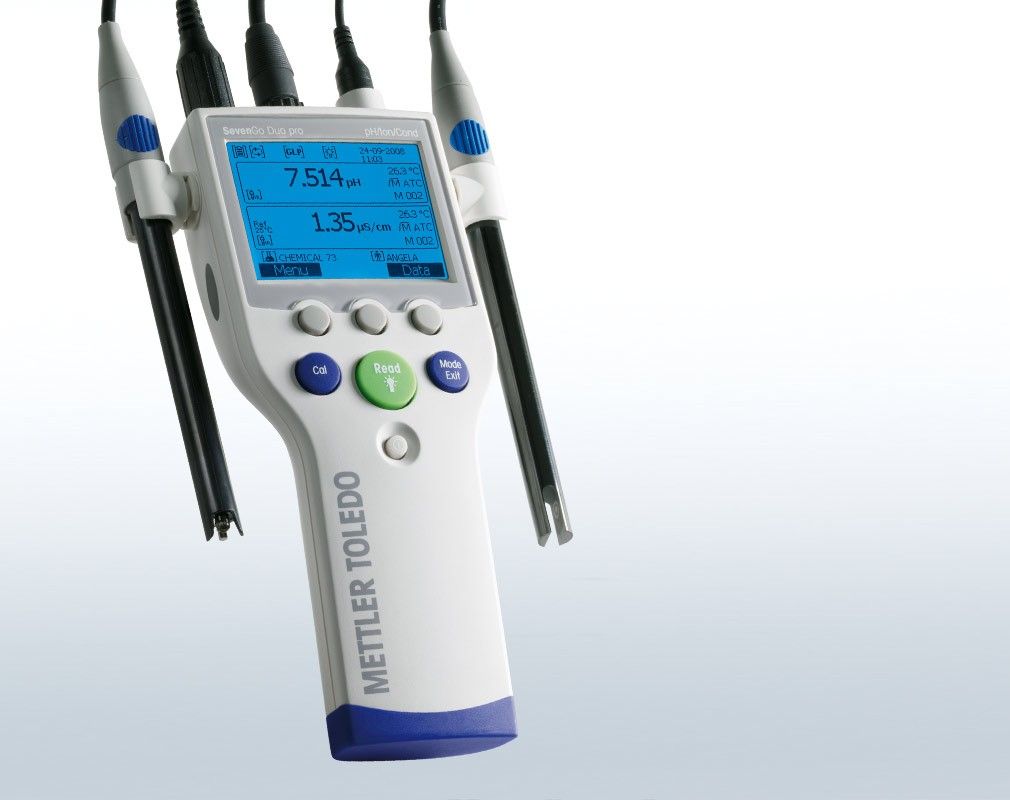 Measurement Parameters
The SevenGo Duo™ is a dual channel portable meter offering data memory and data transfer capabilities on a large, clear and easy-to-read screen. Combinations of measurement parameters include pH and conductivity; pH, ion concentration and dissolved oxygen; or pH, ion concentration, and conductivity.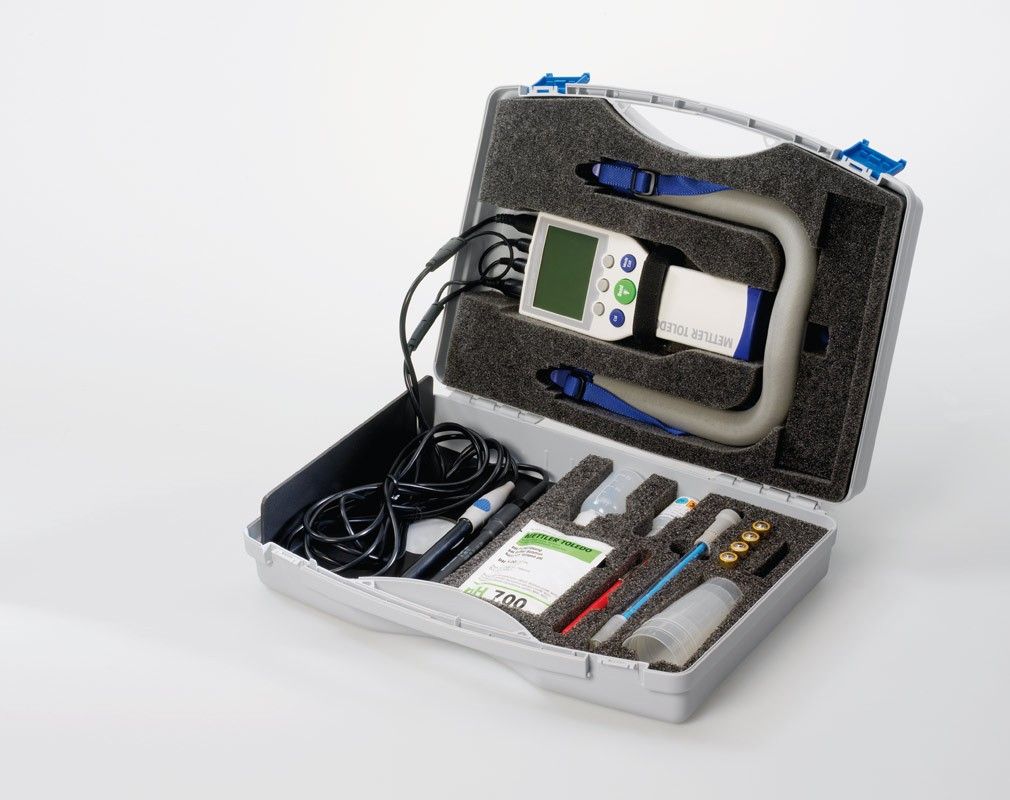 Ergonomics
A high contrast display with large characters, an intuitive menu and single-press buttons for calibrations and readings make this portable meter easy-to-use. The size of the buttons reflect their importance to save you time on-the-go. The attached electrode clip and ergonomic design allow readings to be taken with one hand.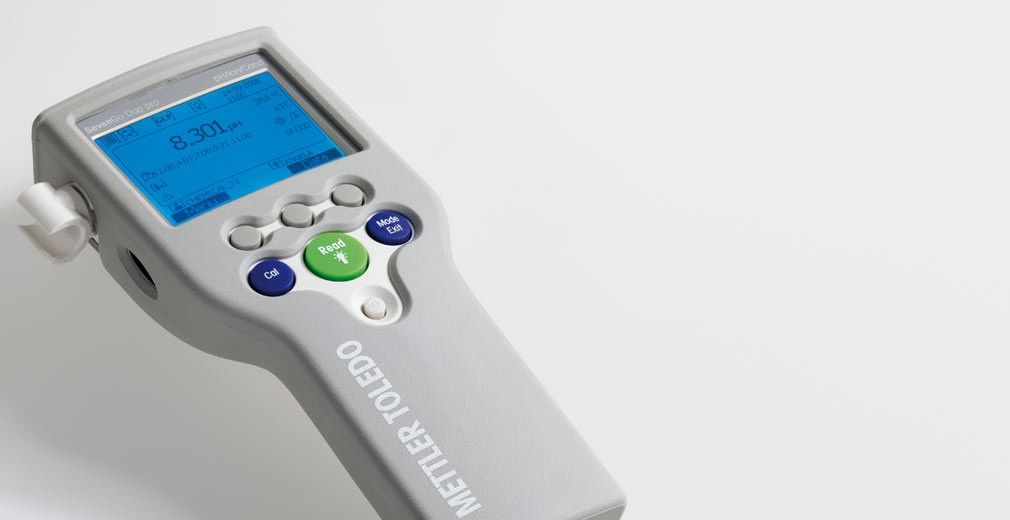 Expert and Routine Operating Modes
Two operating modes exist on the SevenGo Duo™: expert mode and routine mode. Expert mode allows users to configure functions to specific laboratory requirements and a simple switch to routine mode allows for quick and easy execution of these configured settings. While in routine mode, calibration and initial settings are blocked and settings for a specific measurement are fixed.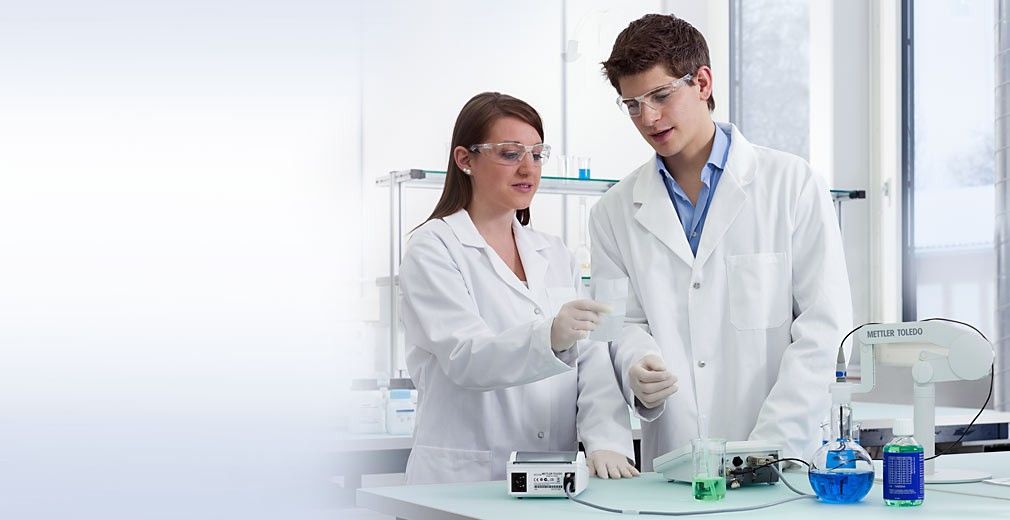 Complete Electrochemistry System
pH measurement does not depend only on your pH meter. All components in your system must be working at their best to provide reliable results.
Ensure your electrochemistry system is complete by choosing the right sensor, solutions and installation services for your specific needs.

Sensors
The complete InLab® sensor portfolio covers the whole scope of pH applications. These range from routine measurements to specialist applications. To find your perfect match, visit our Sensor Product Guide today for an interactive way to the right sensor
Sensor Product Guide
Solutions
METTLER TOLEDO offers a comprehensive range of top quality buffers, standards, electrolytes, cleaning and verification solutions for determination of pH, conductivity, ion concentration, ORP and dissolved oxygen. All solutions are available in small volume bottles either in packs or single and single use sachets.

More about Solutions
Service
We offer different service packages depending on your needs. These range from professional on-site installation and configuration to documented proof of compliancy. If full coverage beyond initial warranty is desired, we offer an extended care package in the form of preventive maintenance and repair.
More about Service
Documentation
Product Brochures

All of the products in the SevenGo™ family from METTLER TOLEDO are characterized by user-friendliness and excellent ergonomics. The instruments are su...
FAQ
What can the SevenGo Duo™ portable meter be used for?
The SevenGo Duo™ is a dual-channel portable meter offering data memory and data transfer capabilities for measurement of pH, conductivity, ion concentration, ORP and dissolved oxygen. The kit versions of this instrument are well suited for outdoor use or use in-line. Both the meters and the sensors are robust and watertight (IP67).
Description:
The SevenGo Duo™ has five-point pH calibration with a choice of seven pre-defined and one user-defined buffer set
Data storage for 500 GLP data records with time/date, sensor ID and SN, as well as user and sample IDs
Contact-free IR communication
Intelligent Sensor Managment (ISM®)
Seven Good Reasons for the SevenGo Duo™:   
Easy and intuitive operation
High measurement accuracy
Large, easy-to-read display screen
Ergonomically designed, watertight and robust
Comprehensive range of practical accessories
Modern GLP data management
Revolutionary Intelligent Sensor Management (ISM®)
How can data be transferred from SevenGo Duo™ to a PC with infrared?
Infrared data transmission is not state of the art anymore. Therefore, there are no longer many programmers who are developing controllers for this technology.
We successfully tested the following combination to transfer data from SG78 to a PC: use the IR-RS232 adapter (P/N 51302333) in combination with the RS232-USB adapter (P/N 64088427). The IR-RS232 adapter needs a 9V power supply to work.The recent PC software EasyDirect™ pH is not designed to support SevenGo™ meters. Instead the last version of LabX Direct™ pH, version 3.4, shall be used. The baudrate in that software must be set to 1200 (not 9600).
Do SevenGo Duo™ meters meet IP67 when no sensor is connected and the meter is on?
SevenGo Duo™ meets the requirements of IP67. This applies to the entire measurement system as well as to the meters themselves.
What is the different between an ISM® light and normal version on the SevenGo Duo™?
Differences between ISM light and "normal" ISM:
only the recent calibration data can be reviewed
neither sensor name nor the serial number can be reviewed
no additional information like maximum temperature can be reviewed
a calibration is saved without date/time or user name
ISM® light is used for mid-level instruments with segmented display and without date/time, user ID and similar information: SG23, S2, S3, S4. In other words: the difference between ISM® light and "normal" ISM® with the SevenGo Duo™ instruments is the same as between ISM® of SG23 (SevenGo Duo™) and of SG78 (SevenGo Duo Pro™).