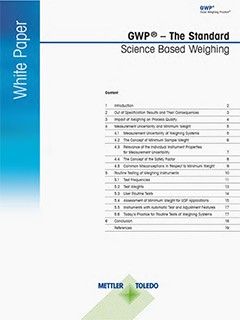 Science Based Weighing
A science based weighing standard for pharma industry can be achieved by following GWP® efficient lifecycle management of weighing systems.
GWP®, the science-based global standard, consists of the selection of the appropriate weighing system based on the evaluation of the respective weighing process requirements, and provides scientific guidance to the user regarding calibrating and testing weighing instruments during the instrument's lifecycle to ensure science based weighing standard.
Based primarily on the user's weighing requirements and prevailing weighing risks, it provides a state-of-the-art strategy to reduce measurement errors and to ensure reproducibly accurate weighing results. The understanding of the particular weighing process requirements and important balance and scale properties as minimum weight is essential to select an appropriate weighing system in the framework of the design qualification.
The performance qualification takes into account these requirements and risks to establish a specific routine testing scenario for the instrument. The higher the impact in case of inaccurate weighings, and the more stringent the weighing accuracy requirements are the more frequently calibration and user tests have to be carried out.
Based on scientific principles the user is guided on how to optimize his routine testing procedures and how to avoid unnecessary or even erroneous testing. Risk and life cycle management form an integrated part of the overall strategy of GWP® to bridge the gap between science based weighing standard, regulatory compliance, process quality, productivity and cost consciousness.