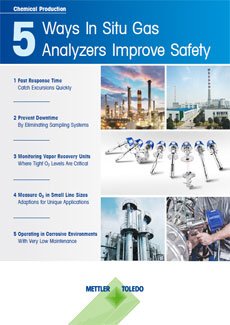 Improve gas measurement safety
In the chemical industry, safety during gas measurement is of the highest priority. Choosing the right measurement equipment is a challenge many companies face.
Tunable diode laser (TDL) spectrometers are in situ gas analyzers that are employed in an increasing number of process and safety-critical applications. With a response time of only two seconds, they are an excellent method of maintaining process safety. Additionally, TDL analyzers require very low maintenance and do not suffer from interference from background gases.
 
The guide, "5 Ways In Situ Gas Analyzers Improve Safety" contains the following five case studies:
Fast Response Time - Catch Excursions Quickly:
For a Chinese manufacturer, the slow response and high maintenance of their O2 analyzers was unacceptable. Changing to METTLER TOLEDO's GPro 500 in situ TDL sensors has reduced measurement time from 20 seconds to 2, and almost eliminated analyzer maintenance.
Prevent Downtime by Eliminating Sampling Systems:
Speed of response and oxygen sensor accuracy are paramount when there is a risk of explosion in production vessels. For a leading producer of performance additives in Italy, METTLER TOLEDO's GPro 500 in situ TDL sensors are providing high performance with almost zero maintenance.
Monitoring Vapor Recovery Units Where Tight O2 Levels Are Critical:
One of China's largest petrochemical companies was looking for alternatives to paramagnetic instruments and was happy when METTLER TOLEDO China introduced to them our GPro 500 TDL analyzers. TDL analyzers are rapidly replacing paramagnetic analyzers in many petrochemical unit operations. By providing fast, accurate measurements directly from within the process, TDLs maintain process safety.
Measure O2 in Small Line Sizes Adaptions for Unique Applications:
To run carbon disulfide recovery with the highest safety, a chemical company wanted to install a TDL oxygen analyzer. But the line size of the pipe at the installation point was too small. A GPro 500 TDL analyzer provided the answer.
Operating in Corrosive Environments with Very Low Maintenance:
When corrosive gases damaged their paramagnetic oxygen analyzer, a major producer of manufactured fibers required a better solution. The process-tolerant GPro 500 is not only providing them with almost instant measurements, its very low maintenance is a significant time and cost saving.