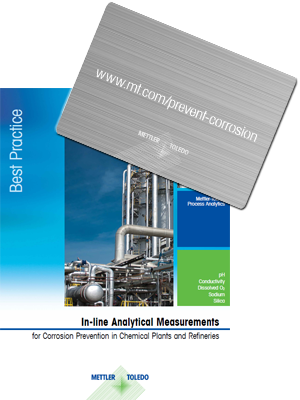 A best practice guide to corrosion prevention in petroleum refineries.
This free guide to refinery corrosion and chemical plant corrosion prevention includes best practice examples from leading chemical companies and refineries. The guide features case studies and articles on the role in-line analytics play in corrosion prevention in chemical and refining operations as well as power and cogen facilities.


It's not just the repair or replacement of corroded equipment that is expensive: production downtime, environmental damage, and health and safety hazards all have their costs. External measures such as painting, coating, and cathodic protection may sustain the integrity of engineering structures, but protecting the inside of process equipment requires a very different approach - chemical treatment.
The effectiveness of specialty chemicals on preventing refinery corrosion depends on process conditions, and as these conditions can vary greatly, so the treatment has to be adapted. Frequently, to err on the side of caution, expensive corrosion inhibitors are dosed in excess. But there's a better approach. In-line analytics provides the real-time and continuous measurement required for corrosion prevention without over- or underdosing corrosion inhibitors.
Discover in the guide how reliable, process-resilient analytics can help minimize refinery corrosion.
Highlights include:
Fighting Corrosion, Scaling and Fouling in China's Largest Petrochemical Plant
TNK-BP Improves Its Desalting with In-line pH Analysis
pH Control in Ethylene Quenching
Improved Optical DO Technology – Minimizes Power Plant Corrosion
Power Plant Conductivity Measurement in Water Treatment and Cycle Chemistry
Safeguard Water and Steam Purity with a Sodium Analyzer