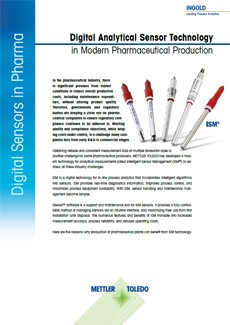 Intelligent Sensors
There is substantial pressure in the pharmaceutical segment to lower overall operating costs, including maintenance and calibration, without affecting product quality. At the same time, governments and regulators are strictly monitoring regulatory compliance during production and pharmaceutical measurement. Reaching objectives related to quality and compliance, and at the same time keeping an eye on costs, is something many pharmaceutical companies struggle with.
This document summarizes how METTLER TOLEDO's Intelligent Sensor Management (ISM) analytical technology addresses the above issues. It summarizes the main advantages of ISM and particularly looks at how it:
Provides identical accuracy at multiple reactor volumes
Enables economic maintenance across the plant
Responds to unforeseen demand
Simplifies regulatory compliance
Reduces analytical risks
ISM is METTLER TOLEDO's process analytics platform that combines the advantages of in-line analytical measurements in pharmaceutical companies with modern digital technology.
ISM sensors offer improved performance over analog probes for a number of reasons. They have an on-board microprocessor that converts the analog signal from the sensor into the actual measurement of the parameter. This information is sent digitally to the connected ISM transmitter and process control system. Being digital, the signal is immune to interference from surrounding equipment, moisture in the environment, and signal loss due to long cable runs.
With ISM, calibration data is stored on the microprocessor within the sensor. This means ISM sensors can be calibrated away from the process in any convenient location. Calibrated sensors can be stored until required, and when connected to an ISM transmitter, the transmitter uploads the calibration data and configures itself automatically. This Plug and Measure functionality means sensor installation at measurement points is fast and error free.
Digital sensors with ISM continuously monitor their own condition and using advanced algorithms, predict when calibration, maintenance, or replacement will be required. These diagnostic tools reduce significantly reduce calibration and maintenance time and effort.