Optical Measurements for Soft Drink Quality Control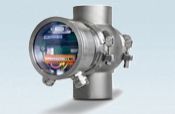 Optical Measurements for Soft Drink Quality Control
Consumers expect a soft drink to always look and taste exactly the same. In-line optical product monitors help provide real-time quality assurance.
The taste and appearance of soft drinks must be of consistently high quality. It is vital to avoid errors that can lead to out-of-specification product being produced and the resultant cost of wasted materials, product disposal, lost production and potential damage to your brand. The high speed packaging lines used in soft drinks production mean that out-of-specification product needs to be identified fast to prevent losses quickly accumulating.
The METTLER TOLEDO InPro8300 RAMS (Reflection Absorption Measuring Switch) meets these needs as it can detect in-line changes in color or turbidity between product, water or CIP media in real time.
Increase quality
The RAMS can be installed either pre carbonator or pre filler, as a quality check to detect changes in dilution of regular or sugar-free diet drinks. It can also be used for product identification to ensure the correct product is put into the right pack.
Save water
RAMS can be used to minimize or eliminate water flushing between product changes. The minimum volume of water required to flush between different colored products can be detected. Alternatively, water flushing between products can be eliminated altogether and back- to- back flushing of products adopted where products permit.
Reduce costs
In addition, RAMS can also be utilized in make- up and recovery of CIP media to ensure efficiency of cleaning with minimum costs and resultant effluent volumes. By reducing waste during production, the cost per unit is reduced.
Find out more at: