UC-CT-M VCO
High-end PC-based compact scale for the most stringent demands
The UC-CT-M VCO PC-based compact scale is the ideal choice for companies looking for a high-performance, compact and slimline counter scale for checkout applications. The UC-CT-M VCO is open to third-party applications, easy to integrate into existing IT infrastructures, and powerful enough to handle the most demanding applications. You can use the bright touchscreen in hygiene and sales training sessions for your staff or exploit the benefits of real-time access to information databases, which can help you increase your staff's selling and advisory skills.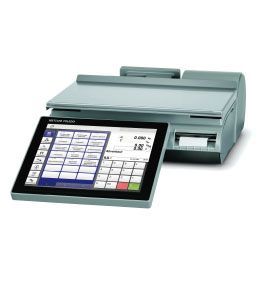 Specifications - UC-CT-M VCO
| | |
| --- | --- |
| Description | High-end PC-based compact scale for the most stringent demands |
| Performance | 250 GB hard drive, 1024 MB RAM, 8 GB SSD (optional) |
| Display | 5.7" (14.5 cm) screen with with LED backlight technology, 640 x 480 pixels |
| Keyboard | 12.1" (30.7 cm) Touchscreen with LED backlight technology, 800 x 600 pixels |
| Material Number(s) | 22022140 |
Features and Benefits



Compact design
The slimline, compact design of the scale saves space at sales counters, does not create any visual barriers between staff and customers, and grants your staff fast and easy access to products on the sales counter.



Perfect legibility


With their backlit LED technology and adjustable tilt angle, the touchscreen and customer display on the UC-CT-M VCO are easy to read for staff and customers – even in the most difficult of lighting conditions.



Professional advice
Whether providing information on hygiene, keeping staff informed of new regulatory policies, giving expert advice on recipes, or providing information about ingredients and their origin: the touchscreen is the perfect platform for innovative staff training and providing valuable tips during the sales process.



Visual sales promotions
Stimulate targeted purchase incentives for lucrative extra revenue in both food and non-food areas. Whether gourmet week, salad dressing tips, or a tasting tour: with its bright customer display, the UC-CT-M VCO whets your customers' appetites for your products.


 
 
 
Documentation