CV35 AdvancedLine
Precision and Versatility.
The CV35 AdvancedLine is the first product on the market that combines checkweighing and visual inspection - designed to prevent label mix-up and verify weight in a single process.
Minimum Recalls
Immediate detection of label confusion saves costs of recovery and rework, and minimizes the risk of a recall.
Maximum Product Control
Controlling the labeling and printing quality maximizes product control and consumer satisfaction.
Comply with Retailer Demands
Installing a total quality control system helps meet retailer demands for certification, and complies with BRC and IFS quality assurance criteria.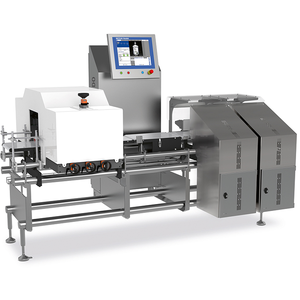 CV35 AdvancedLine - Checkweighing and Vision Combination System

The CV35 AdvancedLine offers checkweighing with inspection for inaccurate labeling and essential prints as part of a single product inspect...


The CV35 AdvancedLine offers checkweighing with inspection for inaccurate labeling and essential prints as part of a single product inspection process. It continuously detects defective products, ensuring accurate certified weights, correct labeling, packaging and verification of critical prints. Performing multiple inspections on three surfaces over a wide range of product sizes and with an industry leading, easy-to-use interface, the CV35 AdvancedLine operates effectively in virtually any consumer product packaging line. Manufacturers benefit from the CV35 AdvancedLine system as follows:

Immediate detection of label mix-up, saving recovery and rework costs and minimizing the risk of recall
Control of labeling and print quality, maximizing product sales and consumer satisfaction
Unit is part of an overall quality control system, meeting retailers' demands for certification

Get protected, with two state-of-the-art control points in a single unit that help facilitate the implementation of BRC and IFS quality assurance criteria.
Specifications - CV35 AdvancedLine Checkweigher
| | |
| --- | --- |
| Accuracy | from ± 0.01 g (10 mg) |
| Throughput | max. 600 weighings/minute |
| Weighing Range | 3 g – 10 000 g |
| Material Number(s) | 24003550 |
Data Collection for Compliance Support
More than ten data communication protocols provide the fullest suite of data collection tools. Supports Industry 4.0 integration projects.

Weighing Terminal (HMI)
15-inch color touchscreen TFT display. Individual user access profiles with password protection. More than 30 available languages. Displays all key weight, production and configuration data.

Weighing Technology
Electromagnetic force restoration (EMFR) load cell, digital, maintenance-free, with temperature compensation, made in Switzerland.

Up to 33% Higher Performance
This means high, accurate throughput to enable tighter manufacturing tolerances in production. Improved processes mean an increase in overall equipment effectiveness to maximise your profits.

Global Service Support
An extensive global service network fully supports cross-border contracts and ensures timely support, availability, and rapid delivery of spare parts. This reduces downtime and keeps production running smoothly.

Documentation