Industrialized Vision Inspection Systems
Automated quality control of print, labels and packaging
Machine vision inspection systems for label inspection, print inspection and other label quality applications. Prevents label mix-up and other errors.

Automated in-line vision inspection systems for inspection of alphanumeric, 1D and 2D barcodes on product packaging surfaces and labels.

Vision inspection systems for fill level, cap presence and skew applications, as well as tamper band integrity.

Graphical Identification

Ensure the correct label is present on a product package by identifying unique graphical elements and label ID numbers, preventing mislabeled products from reaching consumers.

Label Presentation

Verify labels are correctly applied to the packaging surface, absent of any wrinkles, tears or flagged edges to ensure perfect product presentation.

1D and 2D Barcode Quality Inspection

Ensure barcodes are readable and correctly printed. Supports multiple formats, including 1D, 2D datamatrix codes and QR codes.

Alphanumeric Code Reading

Utilizes both Optical Character Recognition (OCR) and Optical Character Verification (OCV) applications, ensuring the accuracy of alphanumeric codes, including dot matrix fonts.

Cap Presence and Positioning

Verifies the presence of bottle caps and ensures they are properly positioned. In addition, verifies that tamper-evident bands are also present when necessary.

Fill Level Detection

Prevents over and under-filling by verifying the correct amount of product is present within the product package.
Machine vision systems for package and tray seal inspection. Verify container closure integrity.

Vision inspection components for OEMs to use in development of new production lines and equipment with vision capabilities.

Add vision inspection capabilities to existing production equipment, or combine it with other Product Inspection systems for a space-saving footprint.

Sealing Surface Uniformity and Seal Presence

Verify the uniformity of the sealing surface before seal application, as well as ensure the presence of package seals post-application.

Seal Integrity

Prevent products with damaged seals or product material caught in the seal from leaving the production facility and triggering a product recall.

Vision Components for OEMs

Vision components and software delivered with the same project management, service, and support as our standard systems.

OEM Project Support

Advice and expertise for OEMs seeking to develop production lines and equipment with vision inspection capabilities.

Flexibility for Unique Inspections

Ensure products are properly assembled, cases are fully packed, or even verify the shape of a product is correct. We develop vision solutions that integrate into your existing production line.

Combination Inspection Systems

Reduce the footprint of your product inspection equipment with one of our product inspection systems with integrated vision capabilities for a secure quality control point.
Services
Global Service, Training and Support from an Industry Leader in Vision Inspection Systems
Explore our Services - Tailored to Fit your Equipment
We support and service your product inspection equipment through its entire lifecycle, from installation to preventive maintenance and calibration to equipment repair.

Publications
Download White Papers, Guides and Other Vision Inspection Documentation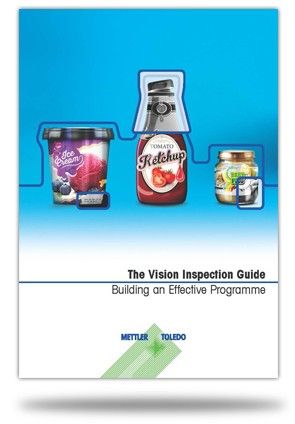 Complete Guide to Vision Inspection
Vision inspection systems meet the challenge of increasing product quality without sacrificing production speeds. CI-Vision's Reduction of Product Defects: Building an Effective Vision Inspection Program includes: technology of vision inspection systems; vision systems in the production process: maximising vision inspection program performance. Ask for this free guide - build an effective vision program. Request this free guide - build an effective vision program.
Brochures

ProdX allows you to connect and control your entire product inspection management process from a single point or from multiple remote locations, elimi...
White Papers

A white paper describing seven ways service support from a product inspection equipment supplier can help manufacturers gain food safety certification...

This White Paper provides an overview of two 360 ͦ vision inspection techniques – stitching and paneling, including the advantages and disadvantages t...

This white paper outlines the regulations governing the labeling of cosmetics in the United States, European Union and Chinese markets as a useful res...

Understanding and meeting the final FSMA requirements in preparation of the Food Safety Modernization Act.
Case Studies

Newman Labelling, a manufacturer of labelling systems for the pharmaceutical industry, collaborated together with METTLER TOLEDO to design and deliver...

Herta GmbH is a German company known for its innovative and high quality sausage and meat products.

Crofters Foods relies on the integrated hardware and software from METTLER TOLEDO CI-Vision for innovative solutions

Three technologies, vision inspection, metal detection and checkweighing are cleverly combined.
ROI Calculator

A vision inspection system pays for itself with reduced rework costs & improved operational efficiencies.
FAQs
What is a Vision Inspection System?
Machine Vision, or Vision Inspection Systems encompass automated machinery with cameras designed to visually inspect food, beverage or pharmaceutical packages for defects, and errors. These systems have been programed to take a photo of a package on the production line and compare specific inspections against an "ideal" image stored in its memory. This provides a manufacturer the capability to:

Compare packaging on the production line to ideal images and reject mismatches
Measure product dimensions and reject out-of-tolerance product
Read data on products to verify that correct data is shown and is printed to acceptable quality standards.
Count the number of products in a case or package and reject it if there is too few or too many items
---
What are the components of a Vision Inspection System?
There are a number of components available to choose from when specifying a vision inspection solution. These components are the fundamental building blocks of a solution and are critical to the effectiveness of the inspections the final solution performs. For an industrialized Vision Inspection System, typical components are as follows:
Cameras - PC-based or Smart Cameras
Lights – used to illuminate the product packaging to achieve the best image
Framing & Brackets – used to hold the lights and camera in place to ensure accurate imaging
HMI (Human Machine Interface) – a touch screen monitor and computer enclosure containing software tools to enable the user to fine-tune the inspection for each product inspected.
Enclosure (depending upon the model) – used to minimize outside light or for harsh wash-down environments
Addition equipment (conveyor, side grips, tracking modules) - integrated into the system depending upon the production line setup
---
What is the difference between a PC Based and Smart Camera vision system?

Smart Cameras are completely self-contained systems which perform all the image processing and analysis work using an on-board CPU. Smart Cameras often feature integrated lighting as well, making them ideal for simple applications such as code reading. Unfortunately, this simplicity is not without its drawbacks – on-board memory is naturally limited, meaning that a comprehensive record of all products inspected may not be feasible. A PC based vision system uses cameras which transmit images to a control PC which coordinates image capturing and processing. PC-controlled systems generally deliver faster processing times – which can be important for more complex applications – and carry the advantage of having far more memory to store different inspection profiles and inspection images.
---
Why do you need a Vision Inspection System?
Inspection of product packaging is critical to ensure products are safely packaged for end consumers. Using a machine vision system you can achieve 24/7 operation and track and record every product inspected. With a Vision Inspection System you can achieve the following:

Minimize quality defects
Protect the customer and consumer
Protect your company brand and reputation
Offer a return on investment (ROI)
Support adherence to industry best practice guidelines and industry standards
Mitigate the risk and impact of product recalls and returns
Investment of a vision inspection system will pay off over time, by eliminating mislabeled products, label mix-ups and the associated costs resulting from mistakes, you can avoid costs from product recalls, fines and production rework. Learn more from our ROI Calculator, by customizing your production data to see how much you can save.
---