Silica Analyzer 2800Si
Reliable on-line silica measurement for pure water treatment and power cycle chemistry
Silica Analyzer for Water Monitoring: The 2800Si
The METTLER TOLEDO Thornton 2800Si Silica Analyzer is a reliable on-line instrument designed specifically for pure water treatment and power cycle ...

The METTLER TOLEDO Thornton 2800Si Silica Analyzer is a reliable on-line instrument designed specifically for pure water treatment and power cycle chemistry monitoring. This Analyzer provides assurance of water purity to optimize ion exchange production of pure water and to minimize silica deposition in turbines. Early detection of trace contamination is enabled with minimal operator supervision.
Applications:
Ultrapure water monitoring at ppb silica levels. Silica breakthrough of polisher anion resin is detected at very low ppb levels and contaminated water can be diverted before it reaches critical areas.
Pure water treatment anion exchange monitoring detects the first breakthrough of silica to trigger regeneration before contamination reaches subsequent treatment stages.
Power steam quality monitoring protects turbines from silica deposition and resulting imbalance, loss of capacity and efficiency.
Power condensate polisher monitoring can detect the need for regeneration at low ppb levels before feedwater is significantly contaminated.
Ensure Water Purity with On-Line Silica Monitoring
Silica analyzers provide a critical measurement for ensuring water purity in power cycle chemistry and in ultrapure water monitoring. Silica analyzers help to optimize ion exchange production and minimize silica deposition on turbines. The 2800Si silica analyzer measures at ppb levels for early detection of silica breakthrough of polisher anion resin, so that contaminated water can be diverted before it reaches critical areas.
Automated Calibration Ensures Repeatability
The 2800Si silica analyzer performs a zero calibration before each measurement, ensuring accurate results every time. This silica analyzer's automated, unattended calibration process ensures repeatability, measurement after measurement. Additionally, because the calibration process is unattended and built-in, the 2800Si silica analyzer requires less user intervention than other on-line silica analyzers.
Less Downtime Required for Analyzer Maintenance
Silica analyzers play an important role in water quality assurance and the protection of plant equipment from corrosion, so uptime is critical. The 2800Si silica analyzer was designed to minimize the downtime required for regular maintenance. With large reagent bottles, the frequency of replacing consumables is less than typical silica analyzers, and the system itself is designed to require minimal preventative maintenance. With a full enclosure, downtime caused by external factors is nearly impossible.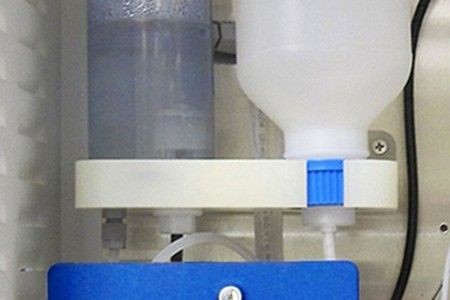 Grab Sample Capability Supports Quality Checks
The 2800Si silica analyzer offers the flexibility to measure grab samples from various plant locations. Automated measurement of grab samples ensures that you achieve the same level of accuracy and reliability for each of your measurements. This secures consistent detection of silica contamination throughout your water quality monitoring process.
Features – Benefits
Automatic, unattended calibration – provides excellent repeatability and saves operator time
Automatic zeroing with every measurement – assures measurement stability
Convenient grab sample capability – allows measurement of additional samples for QC checks in other areas of the plant
Simultaneous display of silica and measurement timing – provides convenient analyzer status at a glance, saving operator time
Provides reaction chamber temperature measurement to assure reliable operation
Full enclosure – safely protects reagent containers and components from plant environment without panel cutout
Large reagent containers enable a long service interval—reduces maintenance time
Documentation
Industry Brochure: Process Analytical Solutions Optimizing Power Plant Chemistry

The new edition of our Power Industry brochure addresses all areas of power plants where precise water analytics are needed. Get an overview of METTLE...
Application Note: Silica Measurement for Pure Water Treatment and Turbine Protection
Datasheets

Proactive services and periodic replacement of consumables can help ensure analyzer performance and power generation efficiency.

High Confidence in Water Quality Dependable On-line Silica Monitoring
Services
Achieve Optimal Uptime and Performance
Explore our Services - Tailored to Fit your Equipment
We support and service your measurement equipment through its entire life-cycle, from installation to preventive maintenance and calibration to equipment repair.
Performance
Maintenance & Optimization
Expertise
Training & Consulting
Accessories
Consumables Kit for Silica Analyzer 2800Si
Single kit of all reagent/tubing needed for 6 months of analyzer operation
Continuous operation of the analyzer for 6 months with minimal downtime.

Silica consumables kit contains:
All necessary reagents, air filters, pump tubing, 1 L of 250 ppb standard.

Reagent makeup
Reagent mix for 6 months also requires 8 L of 10% sulfuric acid, obtained separately.