Laboratory pH Sensor
Accurate pH Electrodes and Probes for a Wide Range of Laboratory and Field Applications
For a Wide Range of Specific pH Applications
Accurate pH measurements begin with the right pH sensor. We combine high-quality materials and technologies to ensure performance, ease-of-use and durability in every sensor we produce. Our versatile pH sensor portfolio ensures a perfectly suited sensor for every application.

Intelligent Sensor Management (ISM®)
Sensors for Any Application
Our Intelligent Sensor Management (ISM®) is a sophisticated safety concept that leaves nothing to chance. With this technology, the instrument will automatically detect the connected sensor and will use the most up-to-date calibration data stored on the sensor.
ARGENTHAL™ Reference System
Traditional sensors include a conventional silver/silver chloride reference system where the electrolyte must be saturated with silver chloride. When measuring protein containing samples, this type of reference system will result in diaphragm contamination. Our ARGENTHAL™ reference system ensures the electrolyte will remain completely free of silver ions by including a silver ion trap.
SteadyForce™ Reference System
A pressurized reference system that prevents the junction from clogging, ensures constant electrolyte flow and guarantees highly reproducible results, even in viscous samples.
Integrated Temperature Probe
The pH value of a solution is temperature dependent. Our sensors include an integrated temperature probe that guarantees you are measuring with the right temperature compensation.
Maximized pH Accuracy
Fast and Reliable Results
pH measurements must be fast, accurate and reproducible. The membrane glass of our sensors is optimized for each application.
The included wetting cap ensures your pH sensor is kept hydrated and is ready-to-use at any time. Finally, our sensors offer different styles of junctions to ensure performance regardless of the sample type.
Maintenance Free
A highly robust PEEK shaft and an open junction create a durable sensor that is chemically and mechanically resistant. Solid XEROLYT® reference electrolyte requires no refilling, meaning the sensor is always ready to use.
Spill Free
An easy-to-use and spill proof wetting cap with a self-tightening screw lock ensures your sensor will remain clean and secure during storage.
Easy-to-Clean
A movable sleeve-junction enables easy and thorough cleaning of your sensor. This also allows for a simple exchange of the reference electrolyte when needed.
Flexible Connectivity
The S7 and MultiPin™ sensor heads offer flexibility and can easily be connected to any pH meter.
InLab® Sensors
Sensors for Any Application
The complete InLab® pH sensor portfolio covers the whole scope of applications. These range from routine measurements to specialist applications, be it in chemical, pharmaceutical, life science, food and beverage or a variety of other laboratory or production facilities.
To find your perfect match, visit our Sensor Selection Guide today.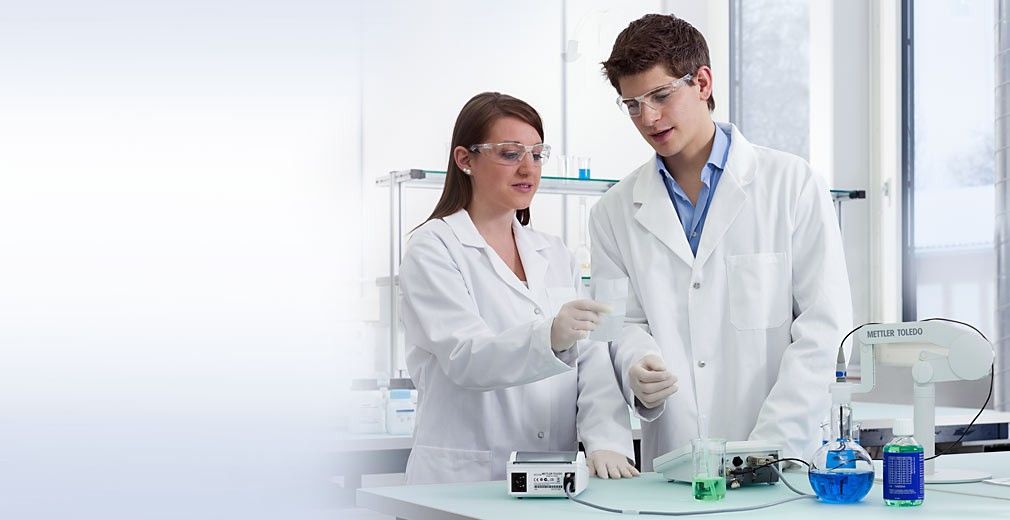 Complete Electrochemistry System
pH measurement does not depend only on your pH meter. All components in your system must be working at their best to provide reliable results.
Ensure your electrochemistry system is complete by choosing the right sensor, solutions and installation services for your specific needs.

Meters
To fit your electrochemistry system needs, we offer a variety of benchtop and portable meters that are professional and durable. Our portfolio offers products designed for compliance, routine measurements or anyone working on a tight budget.
Benchtop Meters
Portable Meters
Solutions
METTLER TOLEDO offers a comprehensive range of top quality buffers, standards, electrolytes, cleaning and verification solutions for determination of pH, conductivity, ion concentration, ORP and dissolved oxygen. All solutions are available in small volume bottles either in packs or single and single use sachets.

More about Solutions
Service
We offer different service packages depending on your needs. These range from professional on-site installation and configuration to documented proof of compliancy. If full coverage beyond initial warranty is desired, we offer an extended care package in the form of preventive maintenance and repair.
More about Service
Products and Specs
FAQ
How often does a pH sensor have to be calibrated?
Depends on the type of sample:
Dirty and non-aqueous samples need more frequent calibration.
Depends on the desired accuracy:
For very accurate measurements, minimum daily calibration is required.
Depends on the quality of the electrode:
Old electrodes need more frequent calibration.
Calibration is always due:
Before the very first use
After changing the reference electrolyte
After cleaning a blocked diaphragm
After restoring the pH sensitive glass membrane
After long or incorrect storage
Whenever verification measurements in a buffer are beyond your specified limits
What are the tolerance limits for slope and offset of pH sensors?
We did not find any international standard that defines which slope is allowed and which is not. DIN 19268 says, that for an accuracy of +/- 0.03 pH units of the measurement a slope of at least 58 mV/pH at 25 °C (equals 98%) must be achieved during calibration (there are many more pre-conditions about the selection of buffers, temperature measurement, response time and so on).
Every user or company has to define which slope is acceptable based on their own regulations. As a general rule a 95% slope is still OK for accurate results and 90% is still OK for general results.
How to control it? Simply perform calibrations on a regular base, e.g. every morning. Ideally, these values should be registered somewhere (at least the last five results) to recognize if the sensor suddenly fails one day or if the slope slowly decreases over time. The latter is normal because of ageing; the former indicates an incident, e.g. a clogged diaphragm.
With some instruments it is also possible to perform sensor tests which check the slope without changing the calibration data. Besides slope and offset, the drift value is also often determined.
What is the measuring error of a pH Sensor?
The measuring error cannot be determined by looking at the sensor alone, it must be considered as a function of the whole measuring system including the pH meter. There are a number of factors that affect the accuracy of a pH measurement, such as the condition and age of the sensor, the electronics of the instrument, the temperature probe and the accuracy of the calibration, amongst other factors: Here is a list of some of them:
Temperature sensor: accuracy: ± 1 °C
pH sensor, zero point accuracy: 7.0 ± 0.25 pH
Buffer solutions accuracy: ± 0.02 pH
pH meter accuracy: ± 0.002 pH and ± 0.1 °C
3-point verification accuracy: ± 0.02 pH.
Across the system we can expect the measuring error of a customary sample (e.g. clear aqueous solutions or buffers in the range of pH 2 - 9) under standardized conditions (temperature, stirring, endpoint criteria), to be approximately 0.05 pH units.
It is only possible to determine the accuracy of the measuring system more precisely by empirical determination. This can be done by measuring the pH value with the same sensor several times, rinsing regularly in-between measurements. The readings must then be statistically evaluated to disclose the accuracy.
What is the normal lifetime of a pH sensor?
When using and storing a pH sensor the recommended way, the expected lifetime is 1 to 3 years. Some customers use their sensors for up to 8 years. There are, however, a number of factors that can contribute decreasing the lifetime of a sensor. One of them is the use of hot or very alkaline samples. Other factors may be mechanical damages resulting from incorrect storage.
Nevertheless, even sensors that have been well maintained and properly stored may start performing poorly after some time. In such cases it may be possible to regenerate the pH-sensitive glass membrane using an ammonium bifluoride regeneration solution (ME-51340073) and restoring the sensor to its previous level of performance. This regeneration solution is based on a highly diluted solution of hydrofluoric acid which etches away a very thin layer of the glass membrane, exposing a fresh surface area.
Blockage of ceramic diaphragms can also lead to a significant reduction of the pH sensor's performance (see also "How to clean pH and ORP electrodes").
The lifetime of electrodes with the SteadyForce™ reference system such as InLab® Power or InLab® Viscous is mainly limited by the residual overpressure of the electrolyte. Depending on the usage requirements, it can be used for 6 to 18 months.
How to detect that a pH sensor is worn out and should be replaced
The slope and offset of calibration are good indicators of the quality of a sensor. When these values surpass certain limits the sensor can be regarded as used up. The lower and upper limits for the slope are 85% and 105% and for the offset -35 mV and 35 mV.
In addition an unstable signal or a very long response time in pH buffers indicates an advanced deterioration of a pH electrode. These phenomenon are often a concomitant of aberrant slopes and offsets.
How to store pH sensors correctly?
All user manuals come with the necessary information about the short and long time storage of the respective sensor. Generally pH sensors should be stored with wetting cap filled with reference electrolyte (often 3 mol/L KCl). It is also possible to store the electrode in pH buffer 4 or in 0.1 mol/L HCl or InLab® Storage Solution.
When is the regeneration solution needed for pH sensors?
A reduced calibration slope, as a result of changes in the gel-layer on the glass membrane, can very often be observed with older sensors or sensors that have been stored dry. Similar effects are noticeable when a sensor is used for non-aqueous applications because the gel-layer is dehydrated in the process. The pH-sensitive glass membrane can be reactivated using a regeneration solution. This solution is a mixture of hydrochloric (HCl) and hydrofluoric (HF) acids. Since these acids are extremely aggressive, make sure that you observe all the necessary safety precautions, e.g. wear protective goggles, a laboratory coat and chemical-resistant gloves. Keep the volume of the solution to a minimum by using a small acid-resistant vessel. Dip the tip of the sensor into the regeneration solution for 5 to 15 minutes. The maximum immersion point is at the level with the upper shoulder of the pH-sensitive glass. Never dip the sensor shaft into the solution because the hydrofluoric acid will damage it.
Then rinse the sensor thoroughly with water and condition it for approximately an hour in a buffer solution of pH 7. Finally, place the sensor overnight in the specific reference electrolyte.
What are double junction sensors?
Double junction pH electrodes are sensors that have an inner and an outer electrolyte chamber and therefore two junctions – the outer one for outflow of bridge electrolyte and the inner one to establish electronic contact between the reference electrolyte and the bridge electrolyte.
Whereas the bridge electrolyte is in contact with the sample, the reference electrolyte is in contact with the reference system. The two electrolyte solutions are separated by an ion-permeable membrane thus completing the circuit.
The reason for this sophisticated reference system is to facilitate pH measurement of special samples. In sensors with just one reference electrolyte chemical reactions between the electrolyte and the measured solution may occur. For example, when using KCI as a reference electrolyte the following ions can precipitate and form compounds of low solubility: Hg2+, Ag+, Pb2+, CIO4-. The resulting precipitates can block the pores of the ceramic junction and thus increase the electrical resistance considerably. Silver chloride from the reference electrolyte may further react with bromide, iodide, cyanide, and especially with sulfides and sulfide compounds such as cystine and cysteine.
Contamination of the junction leads to erroneous results. In order to prevent such reactions between the electrolyte and the sample solution, one can either use an electrolyte that does not react with the above ions, or one can use an electrode with a double junction containing a bridge electrolyte that does not react with the sample.
In addition, when measuring pH in non-aqueous samples which are generally poor in water and ion, it is very important for the electrolyte to be miscible with the sample for the circuit to be complete and the measurement to be accurate. In these cases one needs to change the bridge electrolyte, a feature which is only possible in these double junction sensors. For such measurements we recommend InLab® Science Pro-ISM.
The InLab® Pure Pro-ISM has been designed to be the electrode of choice for aqueous samples with very low ionic strength, including ultrapure water. The bridge electrolyte chamber allows the use of 1mol/L KCl to reduce the concentration gradient at the diaphragm.
These sensors also have special junctions – InLab® Science Pro-ISM has a movable glass sleeve junction & InLab® Pure Pro-ISM has an immovable glass sleeve junction that enables a fast ion flow ensuring a low resistance and therefore a more stable signal.
Only the bridge electrolyte is to be changed for pH measurement of special samples. The reference electrolyte should not be changed in any case.
The bridge electrolyte does not come in direct contact with the reference system and hence does not create any issues with the changed electrolyte.
Double junction electrodes should be used for pH measurement in aqueous solutions containing proteins, sulfides, TRIS buffers or heavy metal ions, in water with very low ion strength and in organic solvents.