Dissolved Oxygen Electrode
Optical and Polarographic Electrodes for Proper Determination of Dissolved Oxygen
Optical and Polarographic Determination
METTLER TOLEDO combines different technologies like ISM® and OptiOx™ to create precise, robust and easy-to-use dissolved oxygen sensors.
IP67 for Waterproof Measurement
Ensures that your entire portable measuring system is able to withstand wet and demanding environments.
Always the Right Temperature
The integrated temperature probe guarantees you always measure with the right temperature compensation.
ISM® - Intelligent Sensor Management
All the important information is stored in the sensor and transferred automatically to the meter. An ideal solution for fast and safe results.
Polarographic Sensors
Designed for harsh environments, these sensors are equipped with a glass-fiber reinforced PPS shaft and a measuring membrane protected by steel mesh.
OptiOx™ Measuring System
The OptiOx™ optical measuring system is based on Rugged Dissolved Oxygen (RDO™) technology. Measurement and maintenance are simplified with this robust design. Achieve high reproducibility with a stable measuring system that requires minimal maintenance.

Intelligent Sensor Management (ISM®)
Increased Data Security and Easy Handling
Our Intelligent Sensor Management (ISM®) is a sophisticated safety concept that leaves nothing to chance. With this technology, the instrument will automatically detect the connected sensor and will use the most up-to-date calibration data stored on the sensor.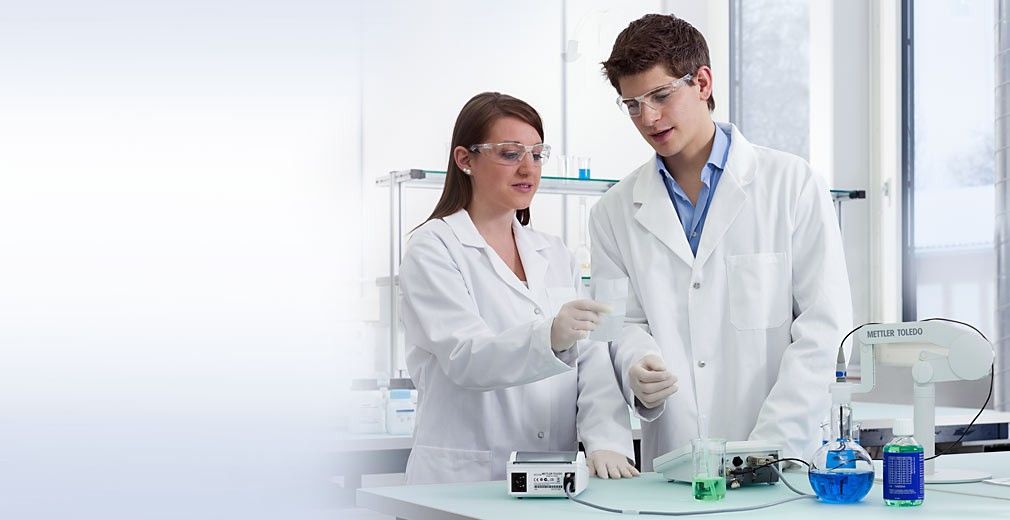 Complete Electrochemistry System
Dissolved oxygen measurement does not depend only on your DO meter. All components in your system must be working at their best to provide reliable results.
Ensure your electrochemistry system is complete by choosing the right sensor, calibration solutions and installation services for your specific needs.
Meters
To fit your electrochemistry system needs, we offer a variety of benchtop and portable meters that are professional and durable. Our portfolio offers products designed for compliance, routine measurements or anyone working on a tight budget.
Benchtop Meters
Portable Meters
Solutions
METTLER TOLEDO offers a comprehensive range of top quality buffers, standards, electrolytes, cleaning and verification solutions for determination of pH, conductivity, ion concentration, ORP and dissolved oxygen. All solutions are available in small volume bottles either in packs or single and single use sachets.

More about Solutions
Service
We offer different service packages depending on your needs. These range from professional on-site installation and configuration to documented proof of compliancy. If full coverage beyond initial warranty is desired, we offer an extended care package in the form of preventive maintenance and repair.
More about Service
Products and Specs
Documentation
Product Brochures

The manufacturing of high quality sensors with outstanding performance not only requires technical skills and expertise but also a profound understand...
Applications

One important analysis to assess water quality is determining the BOD (biochemical oxygen demand). BOD is an indicator of the amount of organic matter...
FAQ
How to store DO sensors correctly?
All user manuals come with the necessary information about the short and long term storage of the respective probe.
General tips for long term storage:
Polarographic DO sensors: with measuring module filled with electrolyte and with green protective cap mounted (dry) to protect from mechanical damage
Galvanic DO sensors: with storage vial filled with 10% NaCl
Optical DO sensors: in the calibration tube ensuring first that the sponge has been dampened with distilled water or keep the sensor in a beaker filled with distilled water
How does the dissolved oxygen sensor work?
There are three different types of dissolved oxygen sensors:
Galvanic             (LE621)
Polarographic     (InLab® 605)
Optical                (InLab® OptiOx™)
The galvanic and polarographic measuring systems are both electrochemical methods.
The galvanic sensor
The galvanic probe is the simplest, because it produces its own electric current. Two poles made of dissimilar metals cause a self polarization of the sensor when immersed in an electrolyte solution. The poles are usually made of silver and lead and the electrolyte is potassium hydroxide.
The polarization causes a potential that leads to a reduction of the oxygen on the surface of the negative pole, which acts as both catalyst and cathode. The produced current can be measured and it is proportional to the quantity of oxygen reduced and hence to the oxygen available in the measuring chamber. The measuring chamber itself is separated from the sample by a watertight oxygen permeable membrane. To make sure that the dissolved oxygen concentration inside and outside the measuring chamber is equal, constant stirring is indispensable.
The polarographic sensor
It is very similar to the galvanic system, with the exception that the polarization of the poles is effected by an external electronic voltage source. That's why polarographic sensors have to be polarized for 6 hours before use.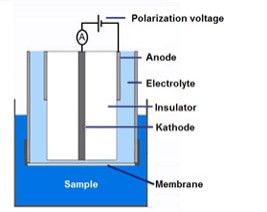 polarographic sensor
The optical sensor
As the name suggests, the optical sensors detect and measure the intensity of fluorescent light.
Sensor emitted blue light (1) excites a fluorescent membrane (2), which in turn emits red light waves (3). These light waves form the actual measurement signal, which is captured by a photodiode (4).
Due to quenching effects the intensity and characteristics of this red fluorescence changes with the amount of oxygen present in the sample (5).
This technology is fast, stable and offers highly reproducible results.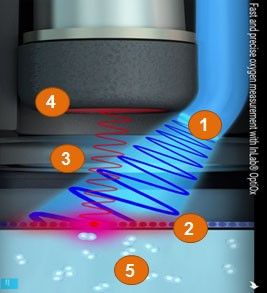 optical sensor
Can the InLab® OptiOx™ dissolved oxygen sensor be used with the uPlace™ electrode arm?
Yes, InLab OptiOx™ can mount on the uPlace™ electrode arm using a coated blue aluminum adapter which looks like the Greek letter omega. The adapter can be mounted at the front of the head of uPlace™ electrode arm. The part number is 30246619.
The adapter allows simultaneous use of other sensors such as pH and/or conductivity on the same uPlace™ electrode holder.