Analytical Instruments
Analytical Instruments - More than a Guarantee for Accurate Measurement Results
Analytical Instruments from METTLER TOLEDO offers: Titration Our Analytical Instruments solutions for potentiometric titrators and Karl F...

Analytical Instruments from METTLER TOLEDO offers:
Our Analytical Instruments solutions for potentiometric titrators and Karl Fischer titrations focus on ease of use, flex­ibility and productivity. The complete range of titrators, autosamplers, sensors, and accessories covers most titration applications. Good Titration Practice™ Guidelines and comprehensive application literature ensure reliable measuring results. The unique One Click Titration™ operation keeps training times to a minimum and speeds up workflows. More about Titration
From basic handhelds to flexible multi-channel meters, METTLER TOLEDO Analytcial Instruments offers a full spectrum of premium quality pH, conductivity, DO and ion meters. The top-of-the-line SevenExcellence meter, for example, provides great flexibil­ity through its modular design: Depending on the module attached, various parameters such as pH, conductivity, ION, Redox etc. can be measured at the same time. More about pH-Sensors, More about Buffer and Standard Solutions


METTLER TOLEDO Analytical Instrumants is the technology leader in thermal analysis instru­mentation. The innovative product range includes Differential Scanning Calorimeters (DSC), Thermogravimetric Analyzers (TGA), Thermomechanical Analyzer (TMA) and Dynamic Mechanical Analyzers (DMA), as well as an unmatched, very powerful common Thermal Analysis software platform. More about Thermal Analysis
With respect to accuracy, standard compliancy and operational security the Melting and Dropping Point Excellence instruments from Analytical Instrumants form a worldwide standard in automatic determination of melting, dropping and softening points. Innovative sample preparation tools and the video recording feature make sure that the complete analytical workflow is performed efficiently, reliably and error-free. More about Melting Point, More ablout Dropping Point
The days of manual deter­minations with pycnometers, hydrometers and optical Abbe refrac­tometers are a thing of the past. Our digital instruments deter­mine the refractive index and density simply, accu­rately, and even simultaneously in a multi-parameter system. A wide range of applications for our Analytical Instruments is available, including Brix, HFCS, alcohol content, Oechsle, Plato, API gravity and many other concentrations.
UV/VIS Excellence spectrophotometers combine outstanding optical performance based on FastTrack™ technology with the intuitive One Click™ user interface. Excellent performance and reliable results are verified with the CertiRef module for automated performance verification according to our GUVP™ (Good UV/VIS Practice) package. The optional LabX® PC software allows for quick and seamless spectroscopic workflows. A dedicated Analytical Instrument for micro-volume measurements in the ultra-violet visible range, based on LockPath™ technology, is ideal for Life Science Applications.
Applications
Choose from more than 1000 ready made Applications - for download
Publications
The whole laboratory competence at a glance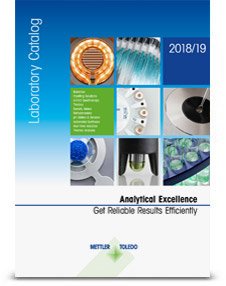 Laboratory Catalogue
Laboratory Analytical Instruments Overview
Our laboratory catalog gives a complete overview of all METTLER TOLEDO laboratory instruments, products and solutions. It presents our broad portfolio of innovative products, software solutions and our service offering. It gives an overview of where you can find valuable application and laboratory know-how in order to stay up to date.


Please fill-in contact information and order a free printed copy of the Laboratory Catalog 2018/19.
If you prefer electronic format, the download link is also available after registration.
Services
Tailored to Fit your Equipment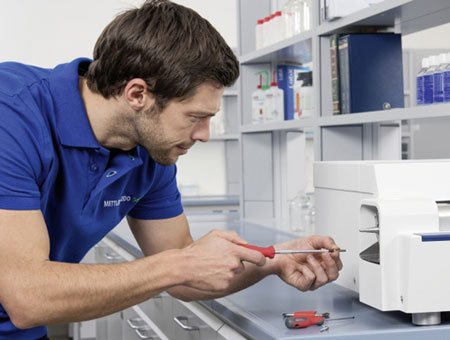 Explore our Services - Tailored to Fit your Equipment
We support and service your measurement equipment through its entire life-cycle, from installation to preventive maintenance and calibration to equipment repair.
Please choose your equipment type:
LabX® Software
LabX® Software fully supports 21 CFR part 11, EU GMP, and ISO 17025.
LabX® Software
LabX® Software brings power to your laboratory bench with automatic data handling, high process security and full SOP user guidance.
One software for many instruments
Full step-by-step user guidance
Integrate LabX system to other lab systems