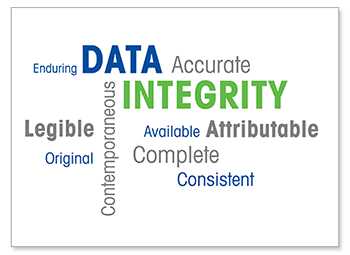 Issues with data integrity?
Perform a quick assessment of your thermal analysis system.
The hottest topic now in Good Manufacturing Practice (GMP) regulated laboratories is data integrity, but even non-regulated industries see that benefits outweigh the costs of establishing good data management practices.
Data integrity options in STARe thermal analysis software – tailored to different needs
STARe software provides password access-control to the application, assigns user-rights for each user-level, ensures file integrity with electronic records stored in a secure database, and properly logs the audit trail and electronic signatures. STARe software also permits electronic transfer of balance data (STAReX™ connectivity) and automated backups for enhanced data security and efficiency.

Data integrity controls in STARe are available in two options to suit the needs of regulated and non-regulated industries alike:



Links to key resources can be found below
Data Integrity (User Rights)
The STARe Data Integrity (User Rights) software option, described in this datasheet, allows different users to be assigned specific roles and access rights.
Validation Handbook
The "Validation in Thermal Analysis" handbook is intended for beginners and specialists interested in the theoretical, practical and regulatory aspects of validation, covering equipment qualification (EQ), software validation and method validation aspects.
Calibration Webinar
Instruments that are not properly adjusted will give inaccurate and inconsistent results. Thermal analysis calibration procedures are covered in our calibration webinar
21 CFR Part 11 Compliance
Everything you need to know about the STARe CFR option can be found in our 21 CFR Part 11 datasheet.
Thermal Analysis UserComs
Thermal Analysis UserComs are a valuable resource for users wanting to improve the quality and reliability of their results.
GTAP
Good Thermal Analysis Practice, abbreviated to GTAP, covers the entire lifecycle of your thermal analysis system – from initial evaluation and selection, to installation, training and routine operation.
CFR Webinar
In this webinar, METTLER TOLEDO introduces the scope and requirements for 21 CFR Part 11 compliance and the METTLER TOLEDO STARe software solutions supporting them.
TA Services
Benefit from METTLER TOLEDO's world-class services, be it hands on trainings and interactive webinars or educational materials such as handbooks, UserComs and TA applications written by thermal analysis experts. Discover more here.
TA Service & Support
We support and service your measurement equipment through its entire lifecycle – from installation to preventive maintenance and calibration, to equipment repair.
Benefit from our TA service offering