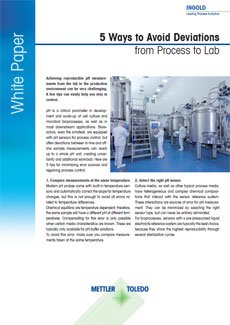 pH measurement in bioprocesses
To be able to measure pH in bioprocesses you need to have a pH measurement tool that is sensitive to the hydrogen ions that define the pH value. The principle of measurement is that you use a sensor with a glass membrane that is sensitive to hydrogen ions, and observe the reaction between it and a sample solution.
Achieving reproducible pH measurements in bioprocesses from the lab to the production environment, is not easy. This white paper provides a few tips that can help you stay in control of your pH measurements in bioprocesses.
Accurately determining pH is critical in process development and scale-up in bioprocesses and in most downstream applications. pH measurement deviations in bioprocesses between in-line and off-line sample measurements can occur, which creates uncertainty in the results. This white paper presents 5 tips for minimizing errors and achieving high process control.
 

METTLER TOLEDO offers reliable and accurate pH sensors for laboratories or production processes from hygienic pharmaceutical processes to harsh chemical ones.

Recommended METTLER TOLEDO pH sensors for production in bioprocesses are:
InPro 3251i ensures batch-to-batch consistency through its high accuracy thanks to pre-pressurized liquid electrolyte and steam sterilizable glass.
InPro 3100i is a sterilizable electrode that combines a robust and precise gel-filled reference system with a versatile design that allows for upside-down mounting.
InPro 2000i has a long sensor lifetime thanks to the refillable reference system. Available with different liquid electrolytes, it can be pressurized in the housing for accurate results even in the most extreme conditions.
Recommended METTLER TOLEDO pH sensors for laboratory applications are:
InLab Power Pro-ISM is designed for general laboratory applications. Provides highly reproducible results even in challenging samples containing polymeric dispersions.

InLab Viscous Pro-ISM is a probe designed for viscous samples and is well suited for protein containing media.

InLab Routine Pro-ISM is a glass body combination pH electrode with integrated temperature sensor and (Intelligent Sensor Management) ISM technology. Designed for general laboratory applications; fast and highly chemical resistant.