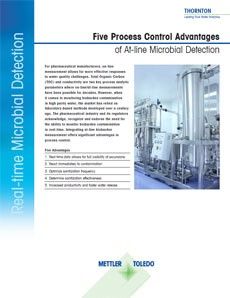 Bioburden Testing in Real Time
Compared with the on-line measurements available for other parameters required by pharmacopeia regulations, bioburden analysis by plate counting can delay your process significantly. Laboratory-based methods of quantifying microbial contamination in high purity water have been around for over a century, and although improvements have been made, basically the procedure is still largely the same: A water sample is left on an agar plate for five days or longer, and then the number of colony forming units (CFUs) is counted.
Not only is the method slow, it only provides a snapshot of the system's water quality at the time the sample was taken.
But now there is an alternative. A method that provides continuous data in real time to provide a complete picture of the bioburden load in water systems.
Bioburden testing with an on-line analyzer has many benefits that improve process control of pharma water systems. This white paper looks at five of them.
 
On-line microbial detection analyzers are an innovative solution to the pharmaceutical industry's need to improve their ability to
Recognize and respond to changes in microbial contamination
determine the effectiveness of sanitization
release pharma-grade waters to production more quickly
The 7000RMS microbial detection analyzer uses two well-established optical measurement techniques in combination, to provide real-time data and process transparency into a pharmaceutical facility's water system.
The white paper explains how using the 7000RMS for bioburden testing increases process control, leading to reduced risk of the release of out-of-specification waters, while also reducing sanitization costs and increasing productivity.