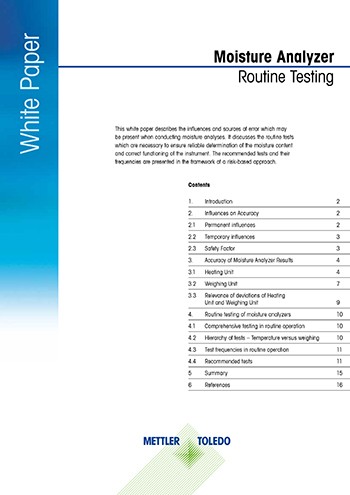 Moisture Analyzer Routine Testing
Moisture Analyzer Routine Testing white paper describes the influences and sources of error which may be present when conducting moisture analyses. It discusses the routine tests which are necessary to ensure reliable determination of the moisture content and correct functioning of the instrument. The recommended tests and their frequencies are presented in the framework of a risk-based approach.
To run measurement equipment and analytical instruments in a quality system, industry specific regulatory requirements often have to be followed: "Measuring equipment shall be calibrated and/or verified at specified intervals […] against measurement standards traceable to international or national measurement standards." (ISO 9001:2008, 7.6 Control of Monitoring and Measuring Devices)
"Apparatus used in a study should be periodically inspected, cleaned, maintained, and calibrated according to Standard Operating Procedures. It is the responsibility of test facility management to ensure that instruments are adequate and functioning according to their intended use." (OECD Principles of GLP, 4.2 Use, Calibration, and Maintenance of Equipment)
Questions such as "how often should I test my instrument?", emerge in situations where guidance is needed to design standard operating procedures that are reasonable and appropriate. This means they should neither be too exhaustive, and thus costly and/or time consuming, nor too loose, and thus not adequate to assure the proper functioning of an instrument.
Learn more about moisture analyzer routine testing from this white paper.