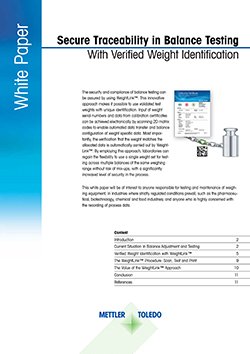 Secure Traceability in Balance Testing
In order to secure traceability in balance testing, companies need to be able to trace their weights. Weights are the most frequently used and the most important test equipment for balance testing. For a correct testing procedure and interpretation of its results we rely on their accuracy and the correctness of the values contained in the weight's calibration certificate. This needs to be issued by an accredited calibration laboratory. In order to be accredited, a calibration laboratory has to prove to the accreditation body that their internal processes are in control and all results are traceable to the international prototype of the kilogram. 
Although companies invest a lot of time and effort in order to avoid mistakes in balance testing, it is never possible to exclude 100% of errors when human interventions are still required in today's balance testing process.
Secure traceability in balance testing with WeightLink™ functionality. It helps to eliminate the risk of human related errors, giving confidence and peace of mind for the process of adjustment and balance testing.

The innovative WeightLink™ concept enables you to:

Use validated test weights with unique identification,
Scan 2D matrix codes to obtain the input of weight serial numbers and data from calibration certificates electronically. It allows automated data transfer and balance configuration of weight specific data,
Verify that the weight matches the allocated data – it is automatically carried out by WeightLink™. 
By employing this approach, laboratories can regain the flexibility to use a single weight set for testing across multiple balances of the same weighing range. Additionally, it reduces the risk of mix-ups while significantly increasing level of process security.
This white paper will be of interest to anyone responsible for testing and maintenance of weighing equipment, in industries where strictly regulated conditions prevail, such as the pharmaceutical, biotechnology, chemical and food industries; and anyone who is highly concerned with the recording of process data.