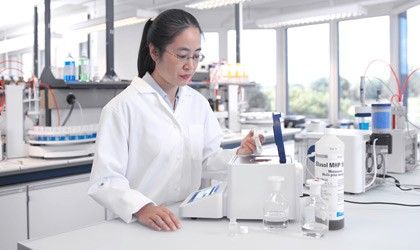 refractometry
Refractometry is the method of measuring the refractive index of a substance.
On digital refractometers the refractive index is measured with the aid of a light-emitting diode, a sapphire prism and a high-resolution optical sensor. The sample is put on the prism and the measurement is started. From a certain angle of incidence – the so-called critical angle – the light no longer penetrates the sample but is fully reflected from its surface and is detected by the optical sensor. This total reflection is converted into refractive index, BRIX, HFCS or user defined concentrations. A built-in Peltier thermostat controls the temperature (no water bath required).
Although digital refractometers are easy to use, some care is necessary in order to obtain reliable and reproducible results.
This webinar explains the most frequent causes of errors and how to avoid them in order to perform correct and repeatable refractometry measurements