Manual picking and assembling operations are prone to errors and require many control steps either during or after the assembly process - or the use of smart equipment to avoid these inaccuracies.
Main pain points production faces with manual workplaces
The five main pain points production managers face are:
Operator picks wrong number of parts
Operator picks from wrong bin
Operator returns parts into wrong bin
Items and parts can go missing
Operator runs out of parts during production process
METTLER TOLEDO has the technology for system integrators that build manual workstations to create a smart solution. Smart assembly workplaces can solve these pain points and be used to accurately verify the picking quality.
You can verify if an operator picks from the right bin. This assures the correct items are assembled, which is especially important when almost identical parts are used in a component. Further, you can verify if an operator picks the right amount of parts. In case an operator picks too many items, you can then verify if the operator returns the parts to the right bin and verify if the right amount is returned. Also, ensure items per bin do not go missing by mistake.
Weighing is also a great solution for inventory control. Weighing sensors are perfect tools to remotely monitor inventory levels. Find out more at www.mt.com/remote-inventory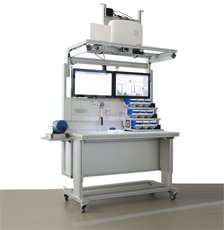 Smart Assembly Workplace with Weigh Modules