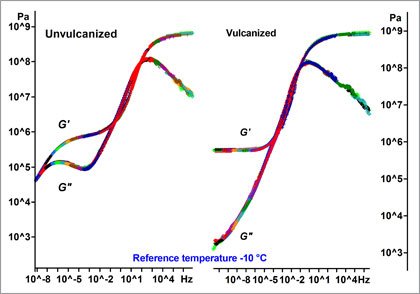 DMA-TTS analysis covers a much greater frequency range than can be accessed experimentally.
METTLER TOLEDO is pleased to present a live webinar on the topics DMA Master Curves and the TTS Principle. The English-language presentation is offered in the morning and afternoon to allow for participation from viewers around the globe. The webinar will explore how DMA and the Time-Temperature Superposition principle (TTS) can be used to predict viscoelastic behaviors of polymeric materials at frequencies outside the accessible measurement range.
Predicting Material Behavior outside the Testable Range
Viscoelastic behavior depends on frequency and temperature, and there is a general equivalence between frequency and temperature-related behavior during transition processes. This equivalence is referred to as TTS, and it forms the theoretical basis of the master curve technique that enables the prediction of polymer relaxation behavior outside the testable range.
In the webinar, METTLER TOLEDO reviews  the Williams–Landel–Ferry (WLF) model, as well as basic time and temperature equivalence, frequency dependence, and master-curve shift-diagram building using representative applications. The presentation will conclude with a Q&A session so that participants can have their most pressing application questions answered.  
Thu Jun 24 2021 06:00 +0000
[ English ]
Thu Jun 24 2021 14:00 +0000
[ English ]