Over/Under Checkweighing
Solutions to Speed up Your Processes

Manual Checkweighing
In any production, manual checkweighing is a common final control check to make sure customers receive the exact amount of product indicated on the label. Usually, manual checkweighing is a repetitive task and an operator is under constant time pressure to ensure all products are within a pre-defined weight range. METTLER TOLEDO provides different manual checkweighing scales, offering improved process accuracy, speed and ergonomics.

Traditional Checkweighing
The operator places the item on the scale and checks if the displayed result is within the expected tolerance range. METTLER TOLEDO portioning scales and checkweighers are available in numerous sizes for ergonomic working. They help the operator increase process efficiency up to 20 percent with the colorWeight® function.

Food Portioning
For portioning, prepared product is stored in a tray beside the scale. The operator puts an empty container on the scale, tares it and starts portioning. Once the defined tolerance range is reached, the operator removes the full container, puts on an empty new container, tares the scale and starts working on the next portion. Dedicated portioning scales offer functions such as "auto-tare" to tare individual container weights.

Checkweighing with Take-Away Mode
In the take-away operation, bulk products are placed in a tray on the scale. After activating the take-away mode, the operator takes away handfuls or scoops of product and fills smaller packages with a predefined amount of product. The scale automatically indicates optically if the amount in the hand or scoop is within tolerance and automatically resets the display. This speeds up the procedure without a keystroke from the operator.

Weight-Based Quality Control
Checking quality by weightis a versatile, accurate alternative to check the quality of a wide range of products in the metal, plastics and electronics industry. Completeness of kits, packages or shipments can be checked. Length of cables, application of coatings and completeness of assembly also can be monitored by looking at weight deviations. The verification of products or samples is done manually with traditional checkweighing. The colorWeight® mode allows high throughput and error-free processes.
Related Products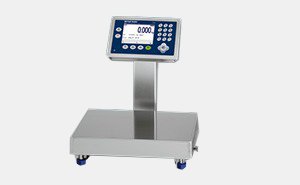 Efficient and reliable weighing with high-quality bench scales and portable scales for any type of industrial application.