Automated Weight Determination
Tailored to the Needs of Instrument and Machine Builders

Quality Control in Manufacturing
Quality control by static weighing of parts, modules or kits is predestined for automated solutions. Pick-and-place operations by automated devices require overload protection in the event of malfunction of handling equipment. Weigh modules should also offer enough capacity for holding devices for parts being weighed. High-precision weigh modules from METTLER TOLEDO are designed for use in production environments.

Routine Weighing in Laboratories
Routine work in laboratories, such as weighing of numerous samples or pipetting, is becoming more automated. But space on laboratory work benches is at a premium. Modern high-precision weigh modules from METTLER TOLEDO offer ultra-small footprints, which makes them easy to integrate so that they fit seamlessly into instruments and automated weighing stations.



Gravimetric Feeders
Automated weighing with loss-in-weight feeders comes with challenges—namely, a heavy preload and continuous vibrations from the feeding device. METTLER TOLEDO weigh modules have excellent filter technologies to ensure accurate results despite the difficult environment. Their high capacity, in combination with high accuracy, allows high turn-down rates to feed continuously and precisely.


Data Exchange Options for Automated Weighing
Data exchange in automated weighing is more than sending information from point A to B. Users expect an end-to-end solution that fits seamlessly into their PLC/ERP systems. Add-on communication profiles, different formats and speed facilitate compliance and ensure efficient and economical configuration. METTLER TOLEDO's comprehensive range of connectivity solutions ensure seamless integration of terminals, transmitters, scales and weigh modules into the most common network environments.


Publications
Guides

Weighing. It's the easiest and most accurate method for filling syringes, vials, ampoules and tubes. The new guideline provides practical know-how to...
Webinars

High-precision weigh modules for automated quality control detect deviations of one part in a million in a fraction of a second. The technology s...
Brochures

The new brochure presents a comprehensive range of weighing components.
Related Products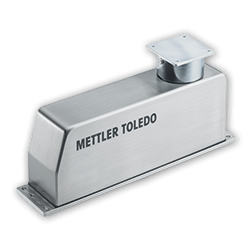 High speed high accuracy weigh modules. Tailored to the needs of equipment or machine manufacturers for simple integration.