Oligonucleotide Synthesis
Ensure Yield, Purity, and Cost Objectives
Oligonucleotide Synthesis – An Overview
Oligonucleotides can be formed either enzymatically through cleavage of larger biomolecules or through targeted chemical synthesis. In the latter case, organonucleotide synthesis is the chemical process by which nucleoside phosphoramidites – a key monomeric element of oligonucleotides – are synthesized. Nucleoside phosphoramidites (or nucleosides in shorthand) themselves are derivatives of natural or synthetic nucleosides.
Nucleotides are compound molecules consisting of a covalently linked nucleoside and a phosphate group. Nucleotides are linked in a specific sequence to form the desired product. Thus, oligonucleotides consist of short segments of nucleic acids that are linked together forming single chain biological polymers ("-mers"). Since most oligonucleotides typically consist of up to 20 linked nucleotides (though more are possible), they can be thought of as small biopharmaceutical molecules.
Much like other pharmaceutically-relevant small molecules, oligonucleotide synthesis requires careful control with respect to temperature, pH, quality of substrates, etc. Because of the typical methods used in oligonucleotide synthesis, the longer and more complicated the nucleotide sequence, the more difficult it is to meet yield, purity, and cost objectives. Process Analytical Technologies (PATs) are useful in achieving these goals.
What are Oligonucleotides?
Oligonucleotides consist of short segments of nucleic acids that are linked together to form single chain biological polymers. The individual nucleotide base pairs can be thought of as equivalent to the monomers that make up classical chemical polymers. A nucleotide consists of three parts: a nitrogen containing base, a sugar molecule with 5 carbons (these two parts are the nucleoside), and one or more phosphate groups. Alternatively, nucleotides can consist of non-natural or non-canonical bases. Common examples include Locked Nucleic Acids (LNA), morpholino, or other structurally modified bases or backbones.
The complex linking of nucleotides form the biologically-critical RNA and DNA biomolecules. In the case of RNA, which is a single strand biopolymer, the sugar is ribose. In DNA, the double strand molecule contains the sugar deoxyribose. It is the short sequences of deoxyriobonucleic acids and ribonucleic acids that are the building blocks of important oligonucleotides. Specific linkages of these nucleotides create the target biomolecules that are used in biological, medical, forensic, and clinical applications.
How are Oligonucleotides Used
The typical use for oligonucleotides involves synthesizing a nucleotide sequence that is paired or 'reverse-complimentary' to a larger, target nucleic acid strand. There are two general types of use for oligos. As primers, oligos initiate a chemical chain reaction on a target sequence. As an example, the polymerase chain reaction (PCR) uses 2'-deoxyribonucleotides as primers and in this application, small sequences of DNA are augmented. Applications for oligo primers include DNA sequencing, gene expression, and molecular diagnostics.
Oligos are used as probes as well. In this application, they bind to and hold a target sequence. Applications using oligo probes include blotting procedures, antisense gene inhibition of certain proteins or to block undesirable RNA sequences, and in microarrays that detect changes in genes in screening for genetic diseases or to identify specific pathogens.
How are Oligonucleotides Synthesized
Example: DNA Oligos
Oligonucleotide synthesis is the chemical process by which nucleotides are specifically linked to form the desired sequenced product. Continuous solid phase synthesis using a packed-bed column is commonly used for producing oligonucleotides. In some cases, a batch, slurry reaction is employed.
The process of producing the target oligomer sequence takes a number of cycles consisting of specific synthetic steps. In the first step, a 4,4' dimethoxytrityl protecting group on the solid phase supported nucleotide is removed. Next, a phosphoroamidite monomer is coupled through the free hydroxyl group on the solid phase bound nucleotide to create a dinucleoside that contains a phosphite triester link. In the third step, the phosphite trimester is oxidized and in the final step (of the first cycle) any unreacted supported nucleosides are "capped" via acetylation to prevent unwanted side products forming in the next cycle.
What are Oligo Primers?
Oligo primers are frequently used to enable sequence elongation, thus forming a complementary strand to a target DNA sequence. This method is known as dideoxy sequencing, or the Sanger method, and is used for PCR and early forms of DNA sequencing. The function of the oligo primer is to provide the sequence-extending DNA polymerase enzyme with a template on which to operate. This forms a complementary DNA sequence and the end of the process is a double strand DNA molecule. 
Primers are created by linking specific nucleotides. This process is carefully controlled to ensure that the resultant molecule is well matched to the target strand. In order to have chain lengthening, it is critical that the primer's 3' deoxyribose carbon end coincides with sequences on the template molecule.
How Long are Oligos?
The length of an oligonucleotide is defined by the number of nucleotides that make up the sequence. As far as nomenclature, a sequence that is 20 nucleotides long is defined as a "twenty-mer". The oligo length is critical to the different applications. For example, short-mer oligos are commonly used in PCR, whereas very long sequences (200 bases or more) are used in demanding applications such as cloning or CRISPR editing. The synthesis of specialized, long-mer oligos is challenging and delivering a pure sequence requires both effective synthesis control and purification methods. On average, most oligos are less than 60-mer in length. Since the manner in which oligos are synthesized require repetitive reaction cycles that add additional nucleotides, the longer the sequence required, the greater the likelihood of forming unwanted by-products, which may include deletion or truncation sequences.
Different purification methods are used depending on quality, quantity, and cost objectives. For example, salt-free oligos have by-products of the chemical synthesis removed, but sequence failures remain. These desalted oligos are useful from a cost and efficacy perspective for more routine applications, such as PCR. For more demanding applications, reverse phase chromatography removes unwanted sequences from a product, but not as effectively as gel electrophoresis, which delivers a highly purified sequence product, but typically at limited quantities.
Solid Phase Synthesis
Classical solid phase chemical synthesis typically involves the use of polymer or specialized glass beads that are not affected by the reaction conditions. These beads may be contained in columns in which reactants, reagents, and solvents flow through. The purpose of the beads is to act as a platform on which substrate molecules are covalently bound, and then acted upon by chemical reaction. Protection and deprotection of certain functional groups on the substrate molecule is key to the synthesis and to ensure that the desired product is obtained. The synthesis product is removed by chemically breaking the bond between it and the underlying polymer bead. 
Solid phase synthesis is effective at quickly yielding purified product, since impurities and unreacted materials are washed away in the various steps of the synthesis. Furthermore, the entire synthesis is amenable to computer control and automation.  Solid phase synthesis is the most common method for the production of custom peptide and oligonucleotide production. In the latter case, numerous repetitive cycles are required to sequentially add nucleotides in order to form the target sequence. 
Oligonucleotide Synthesis and PAT
The real-time monitoring capabilities of in situ FTIR and Raman Spectroscopy for chemistry carried out under flow conditions is well proven, and is applicable in key steps of oligonucleotide synthesis.
Synthesis of nucleotide monomers to ensure structural and purity
Mitigate risks caused by synthesizer mechanical problems or incorrect solution feeds
Track coupling reaction of phosphoroamidite monomer to the free hydroxyl group on the solid phase bound nucleotide
Track denaturation and annealing of complementary oligonucleotides in double strand synthesis.
Determine chemical reaction kinetics in annealing process – identify and track intermediates or unknowns
Correlate changes in spectra with key points in process
Applicable to SPS, batch, and convergent peptide synthesis (SPS + Solution Phase)
Verwandte Produkte
Fourier-Transformations-IR-Spektroskopie (FTIR) zur Echtzeitüberwachung chemischer Reaktionen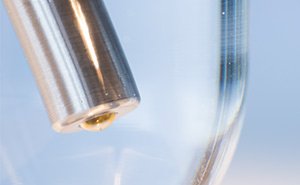 Verstehen Sie die Kinetik und Kristallisation und optimieren Sie die Reaktionsvariablen zweiphasiger und mehrphasiger Reaktionen
Laborreaktoren für die chemische Synthese steigern die Produktivität im Labor.