Single Test Weights
OIML Classes E1, E2, F1, F2 & M1 and ASTM Classes 1-4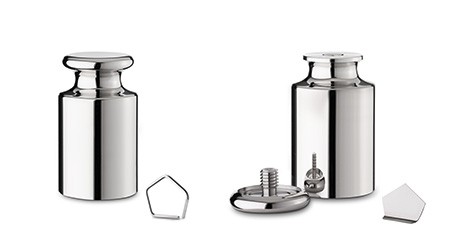 Test Weights for Balances
Our stainless steel test weights in the design of knob weights with and without adjusting cavities as well as wire or sheet weights in the milligram range are produced from the finest quality austenitic steel which offers the highest resistance to corrosion over a weight's lifetime. Our unique manufacturing process involves melting the steel under vacuum (class E1), final-stage electrolytic polishing, fully automated cleaning processes, and final calibration using our mass comparators.
Calibration Certificate Needed?
Monitoring the performance of your weighing equipment is typically required by standards like GMP or the internal quality assurance department. For example, if you work according to ISO 9001, documented metrological traceability is required and test weights with a certificate are necessary. Calibration certificates from a METTLER TOLEDO calibration laboratory are produced in accordance with ISO/IEC 17025 to fulfill metrological traceability requirements. However, using test weights without a calibration certificate may be acceptable in certain cases. Choose your test weights according to your specific requirements – with or without a calibration certificate.
Protection and Durability
To protect the integrity of weights and ensure a long lifetime, weights are supplied in a robust and easy-to-clean plastic container. Protective materials, including foam inserts, make them a durable solution.
Find out more on how to handle test weights correctly:
Professional Accessories
Choose from a comprehensive range of accessories or professional weight handles, including tweezers, weight forks, weight grips, gloves and cleaning cloths, which all meet the highest industry requirements and assure professional weight handling.
How to Select the Correct Test Weight and Weight Class
The selection of test weights depends on the degree of accuracy needed to satisfy your specific process tolerance. Our free GWP® Recommendation service specifies the correct test weights and weight class to use to check the performance of your weighing device.
Contact us for a