If you could watch a movie in black and white or high-definition (HD) color, which would you choose? Either way you see the movie, but HD color gives a clearer, more detailed picture. Read on to see how this same concept applies to your vehicle scale.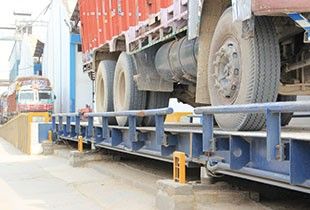 Better than compliant
Better than compliant
Many truck scale owners and operators assume that when a technician tells them that their weighbridge is operating within compliance, it is weighing accurately. But this is not necessarily the case. In fact, legal error tolerances allow for a significant fluctuation in +/- weight readings, leaving your business at risk.

Here, we will look at a breakdown of what weighbridge accuracy means to your business—and how you can achieve it.

What is the true meaning of 'compliance' in terms of legal-for-trade weighing?

Weights and Measures authorities around the globe set tolerance standards for their regions. These can range from 60-120lbs or 30-60kg of tolerable error on a typical truck scale. This means that if a weighbridge is measuring within that +/- tolerance, it is technically compliant to the law. These legal-for-trade laws were written more than 40 years ago, when weighing technology was more primitive and could only attain a certain level of accuracy, however. New digital technology from METTLER TOLEDO allows for far superior accuracy than the analog technology that the laws were written for, creating a large and sometimes costly difference in compliant accuracy and true accuracy.
Better than compliant
How is true accuracy different from compliant accuracy?

With advanced technology from METTLER TOLEDO, bulk weighing is now more accurate than ever before. More precise weighments reflect the true weight of what you are buying or selling. Additional error compensation tools built directly into our POWERCELL® PDX® load cells work to remove errors after the A to D (analog to digital) conversion, resulting in more accurate weighments. Our service data shows that, on average, the error range of our POWERCELL® PDX® load cells is between 0 and 12 lbs. at full capacity. This is industry-leading accuracy that protects your profits during every transaction.

What does this mean for your business?

If your truck scale acts as a cash register for your business, then the concept of accurate weighing is important to you. Your goods are bought and sold over your scale, and their value is determined solely on weight. If every weighment falls within legal compliance but is still technically inaccurate, the losses add up. Review the table below to see how quickly the cost of inaccuracy could grow in your application.
Better than compliant
Cost of inaccuracy, 100 trucks per day on scale weighing 100 lbs under per load (well within compliance)
| | | | | | |
| --- | --- | --- | --- | --- | --- |
| Bulk Materials | USD$ Per Ton/Bushel | Price Per Lb. | One Week Loss | One Month Loss | One Year Loss |
| Crushed Stone Fill | $20.00 / ton | $0.01 | $1,000 | $2,200 | $26,000 |
| Rubber | $72.00 / ton | $0.036 | $1,800 | $7,200 | $86,400 |
| Scrap Metal (low grade ICW) | $460.00 / ton | $0.23 | $11,500 | $46,000 | $520,000 |

Do not settle for a weighbridge that is only compliant when true accuracy is available from METTLER TOLEDO.