Bench Scale BBA236-4BB60N
For Demanding Applications.
Simple & Intuitive
The IP65-rated scale is easy to operate. The straightforward setup of different functions requires minimal operator training.
Easy to Clean
The open and sturdy stainless-steel platform design, built according to hygienic standards, allows fast, thorough and easy cleaning.
Execution
The scale is AC powered and unapproved by delivery. The stand is not included with scale and must be ordered separately.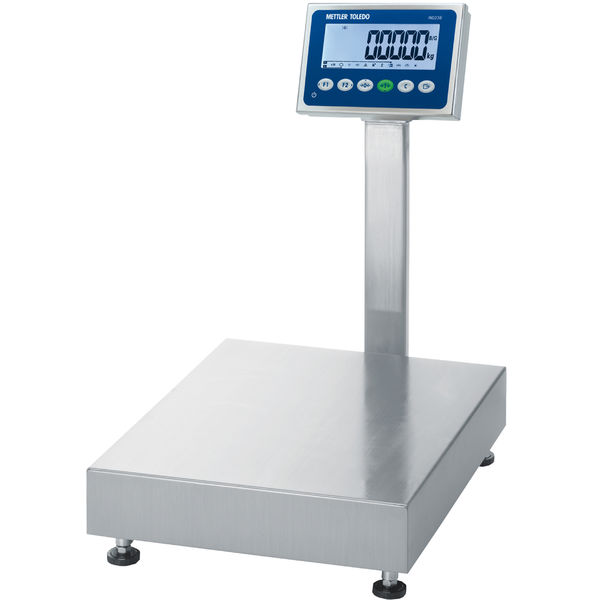 Specifications - Bench Scale BBA236-4BB60N
| | |
| --- | --- |
| Maximum Capacity | 60 kg |
| Readability | 5 g |
| Repeatability (sd) | 1.8 g |
| Platform Size | 300 mm x 97 mm x 400 mm (15.7 in) |
| Material | Stainless Steel |
| Protection Rating | IP65 Platform; IP67 terminal |
| Display | 7 segment LCD with backlit |
| Interfaces | RS232 |
| Housing | Stainless Steel |
| Repeatability | 5 g |
| Repeatability, typical | 1.8 g |
| Weighing Pan Dimensions (LxHxW) | 300 mm x 57 mm x 400 mm |
| Bench Scale Type {mt.com} | Basic Level |
| Hazardous Approval | No |
| Application Software | Dynamic Weighing; Counting; Simple weighing; Over Under Checkweighing |
| Data Interface | Serial |
| Dimensions/Platform Size | </=400 mm |
| Hazardous Area | Non-hazardous area |
| Applications | Simple Weighing; Dynamic weighing; Counting; Over Under Checkweighing |
| Environment | Dusty & Light Wet (IP65) |
| Voltage | AC Version |
| Scale Interface | Analog |
| Hygienic Design | No |
| Performance Optimization | High Resolution: Special aluminum strain gauge load cell |
| Data Management | Printing: Application specific print templates |
| Compliance Support | Hygienic Designed Platform: Easy to Clean |
| Cable (Length) | 2.3 m |
| Versatility | Good Readability: LCD-Display with backlit; Mobile Operation: Battery optional available; Bench Scale: For versatile weighing tasks in light wet environment |
| Platform Type | Bench Scale |
| Zero Return (typical) | 1.3 g |
| Error of Indication at half load (typical) | 3.5 g |
| Hysteresis (typical) | 1.9 g |
| Eccentric Load Deviation at 1/3 of Full Load (typical) (Metric) | 5.4 g |
| Error of Indication at full load (typical) | 3.7 g |
| EasyPrint Name | BBA236-4BB60N |
| Material Number(s) | 30080336 |
Documentation