Bench Scale BBA231-3A15A
For Routine Applications.
BBA231 - Bench Scale
Multi-Functional
Fast, economical and multi-functional for any straight weighing, counting, checkweighing or classifying application in a dry environment.
Visible and Fast
The terminal, with its large LCD display, is easy to operate and features a built-in RS232 interface to communicate with a printer or PC.
Lasting Battery Power
The scale is powered by 240 VAC or 6 AA dry batteries for >80 hours of stand-alone operation.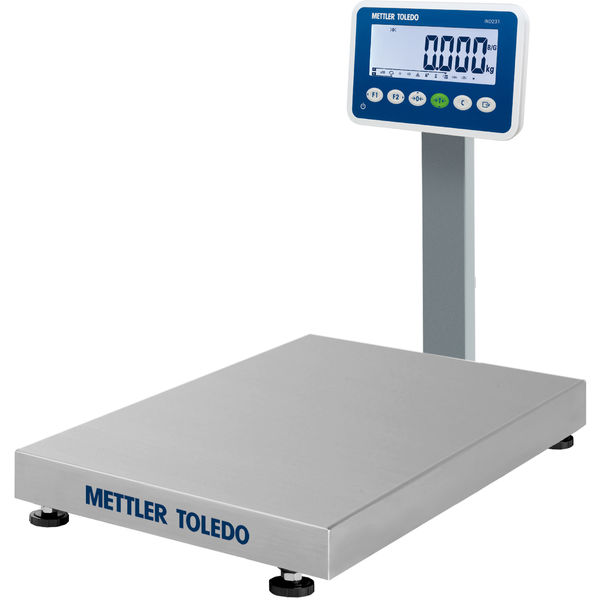 Specifications - Bench Scale BBA231-3A15A
| | |
| --- | --- |
| Maximum Capacity | 15 kg |
| Readability | 1 g |
| Repeatability (sd) | 0.5 g |
| Platform Size (LxHxW) | 240 mm x 68.5 mm x 300 mm (9.5 in x 2.7 in x 11.8 in) |
| Material | Platform: Carbon Steel; Terminal: Plastic |
| Protection Rating | IP54 Terminal; IP65 Platform |
| Display | 7 segment LCD with backlit |
| Interfaces | RS232 |
| Housing | Platform: Carbon Steel; Terminal: Plastic |
| Repeatability | 1 g |
| Repeatability, typical | 0.5 g |
| Weighing Pan Dimensions (LxHxW) | 240 mm x 38 mm x 300 mm (9.5 in x 1.5 in x 11.8 in) |
| Bench Scale Type {mt.com} | Basic Level |
| Hazardous Approval | No |
| Application Software | Dynamic Weighing; Counting; Simple weighing; Over Under Checkweighing |
| Data Interface | Serial |
| Dimensions/Platform Size | </=400 mm; from 6.3" to 15.7" |
| Hazardous Area | Non-hazardous area |
| Applications | Simple Weighing; Dynamic weighing; Counting; Over Under Checkweighing |
| Environment | Dry (<IP65) |
| Voltage | Battery Version; AC Version |
| Scale Interface | Analog |
| Hygienic Design | No |
| Performance Optimization | Reliable Weighing Technology: Robust aluminum strain gauge load cell |
| Data Management | Printing: Application specific print templates |
| | 1 m (3.3 ft) |
| Versatility | Good Readability: LCD-Display with backlit; Mobile Operation: Battery optional available; Bench Scale: For versatile weighing tasks in dry environment |
| Platform Type | Bench Scale |
| Zero Return (typical) | 0.6 g |
| Error of Indication at half load (typical) | 0.8 g |
| Hysteresis (typical) | 0.5 g |
| Eccentric Load Deviation at 1/3 of Full Load (typical) (Metric) | 1.3 g |
| Error of Indication at full load (typical) | 1 g |
| EasyPrint Name | BBA231-3A15A |
| Material Number(s) | 30080306 |
Documentation