Bench Scale BBA231-3CC600C/W
Reliable Mobile Weighing.
Multi-Functional
Fast, economical and multi-functional for any straight weighing, counting, checkweighing or classifying application in a dry environment.
Visible and Fast
The terminal, with its large LCD display, is easy to operate and features a built-in RS232 interface to communicate with a printer or PC.
Safe Mobility
The solid cart is capable of transporting loads up to 600kg/1200lb. Integrated wheel breaks provide additional security during weighing and parking.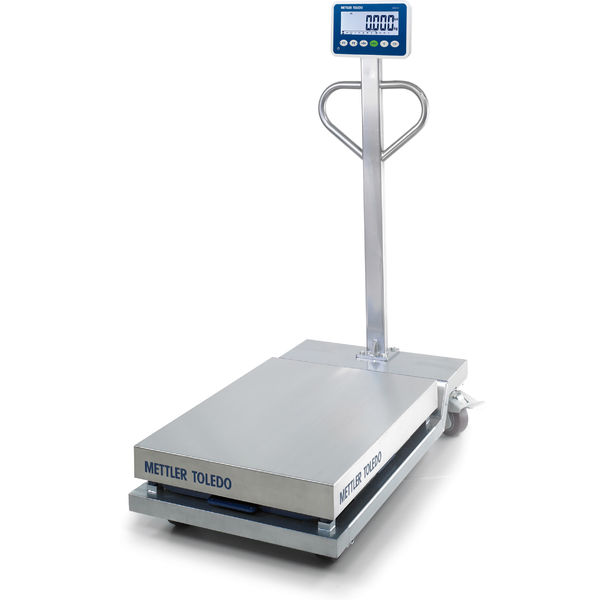 Product Family:bench-scale0003000400080015
Specifications - Bench Scale BBA231-3CC600C/W
| | |
| --- | --- |
| Maximum Capacity | 600 kg (1,200 lb) |
| Readability | 200 g (0.2 lb) |
| Repeatability(sd) | 18 g (0.04 lb) |
| Platform Size (LxHxW) | 600 mm x 130 mm x 800 mm (23.6 in x 5.12 in x 31.5 in) |
| Material | Platform: Carbon Steel; Terminal: Plastic |
| Protection Rating | IP54 Terminal; IP65 Platform |
| Display | 7 segment LCD with backlit |
| Interfaces | RS232 |
| Housing | Platform: Carbon Steel; Terminal: Plastic |
| Repeatability | 0.2 lb |
| Repeatability, typical | 18 g |
| Repeatability (typical) | 0.04 lb |
| Weighing Pan Dimensions (LxHxW) | 600 mm x 90 mm x 800 mm (23.6 in x 3.54 in x 31.5 in) |
| Bench Scale Type {mt.com} | Basic Level |
| Hazardous Approval | No |
| Application Software | Dynamic Weighing; Counting; Simple weighing; Over Under Checkweighing |
| Data Interface | Serial |
| Hazardous Area | Non-hazardous area |
| Applications | Simple Weighing; Dynamic weighing; Counting; Over Under Checkweighing |
| Environment | Dry (<IP65) |
| Voltage | Battery Version; AC Version |
| Scale Interface | Analog |
| Hygienic Design | No |
| Performance Optimization | Reliable Weighing Technology: Robust aluminum strain gauge load cell |
| Data Management | Printing: Application specific print templates |
| | 2 m (6.5 ft) |
| Versatility | Good Readability: LCD-Display with backlit; Mobile Operation: Battery optional available; Bench Scale: For versatile weighing tasks in dry environment |
| Platform Type | Bench Scale |
| Zero Return (typical) | 18 g (0.04 lb) |
| Error of Indication at half load (typical) | 18 g (0.04 lb) |
| Hysteresis (typical) | 29 g (0.06 lb) |
| Eccentric Load Deviation at 1/3 of Full Load (typical) (Metric) | 54 g |
| Eccentric Load Deviation at 1/3 of Full Load (typical) | 0.12 lb |
| Error of Indication at full load (typical) | 70 g (0.154 lb) |
| EasyPrint Name | BBA231-3CC600C/W |
| Material Number(s) | 30080069 |
Maximum Capacity:600 kg (1,200 lb)Maximum Capacity:600 kgMaximum Capacity:1,200 lbReadability:200 g (0.2 lb)Readability:200 gReadability:0.2 lbInterfaces:RS232Interfaces:RS232Dimensions/Platform Size:from 19.8" to 31.5"; from 501 to 800 mmDimensions/Platform Size:from 19.8" to 31.5"Dimensions/Platform Size:from 501 to 800 mmHazardous Area:Non-hazardous areaHazardous Area:Non-hazardous areaApplications:Simple Weighing; Dynamic weighing; Counting; Over Under CheckweighingApplications:Simple WeighingApplications:Dynamic weighingApplications:CountingApplications:Over Under CheckweighingEnvironment:Dry (<IP65)Environment:Dry (<IP65)Hygienic Design:NoHygienic Design:No
Documentation